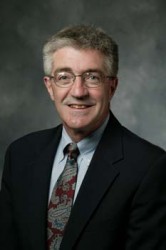 Morris P. Fiorina
Renowned political scientist Morris P. Fiorina will give a lecture at Drake University Thursday, Sept. 20, on "The Great Disconnect in American Politics" as part of a national Visiting Scholar Program sponsored by the Phi Beta Kappa Society. The lecture, which is free and open to the public, will start at 7 p.m. in Sheslow Auditorium in Old Main, 2507 University Ave.
"This lecture offers the Drake and Des Moines communities the opportunity to hear a nationally recognized scholar present his views on the character of political conflict in contemporary America," said Dennis Goldford, Drake professor of politics. "He describes his topic as a discussion of 'the contemporary contrast between polarized political class and a largely centrist electorate, the sociological roots of today's elite polarization and the prospects for change.'"
Fiorina is the Wendt family professor of political science and a senior fellow of the Hoover Institution at Stanford University. He has written extensively on American government and politics, with special emphasis on the study of representation and elections. In 2006, he was awarded the Warren E. Miller Prize of the American Political Science Association for career contributions to the study of elections, public opinion and voting behavior. More recently, he was named the Harold Lasswell fellow of the American Academy of Political and Social Sciences.
In addition to the lecture, Fiorina will speak to students in two political science classes during his campus visit Sept. 20-21. His lecture is part of a series of events sponsored by the Phi Beta Kappa Society to encourage the application of learning and scholarship in the examination of important topics. Drake is one of 11 colleges and universities across the country selected to participate in this year's series, titled "Deliberation About Things That Matter."
"A main goal is to work collaboratively with other groups on campus to explore deliberation as a style of learning," said Lisa West, assistant professor of English and faculty adviser for Drake's chapter of Phi Beta Kappa."
Since 1776, Phi Beta Kappa has advocated excellence in the liberal arts and sciences and is the nation's oldest honor society.
"As a member of Phi Beta Kappa, I received information on the Visiting Scholar Program last summer and decided to apply for a lecture at Drake ," Goldford said. "I'm sure it was the combination of Drake's national reputation as an excellent university with professor Fiorina's likely interest in visiting Iowa during the 2008 Caucus period that led to our selection."
The series will continue with other speakers and events that will be announced later. The events at Drake and the other participating campuses are funded by a grant of $100,000 to the Phi Beta Kappa Society from the Teagle Foundation.