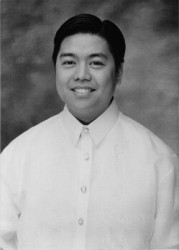 Mark Anthony A. Carpio
Drake University will host a free concert featuring the University of Philippines Madrigal Singers as guest artists at 8 p.m. Wednesday, September 19, on the Jordan Stage in Sheslow Auditorium in Old Main, 2507 University Ave.
The Philippine Madrigal Singers, fondly called Madz, were founded in 1963 and have established themselves as being one of the world's best choirs. They were named "World's Best Choir" in June 1997 after winning the global choir competition in Tours, France. Their current awards include winning top prizes in the Certamenes Internacional Habaneras y Polifonia competition in Torrevieja, Spain, in 2004.
The Madz is comprised of students and faculty from the University of the Philippines, and averages two international concert tours per year in which they promote Philippine music and Filipino artists. The group is known for performing in a semi-circle without the aid of a conductor. Their pieces vary from traditional Filipino folksongs to the latest pop hits. The group masterfully combines musicality, technique, and soul to deliver an exhilarating show and a meaningful message.
The group has published more than 35 international recordings as well as the book, "A Life Shaped by Music," which documents the life of Philippine Madrigal Singers' founder, professor Andrea O. Veneracion.
Mark Anthony A. Carpio, successor to professor Veneracion, currently directs the Madz. Carpio is an alumnus of Madz and continues to push the group to reach new levels of excellence.
For more information regarding the Philippine Madrigal Singers, please visit them online.
For more information regarding the performance call 515-271-3975.