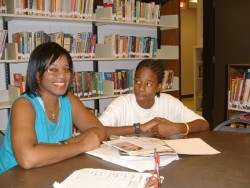 Barb Browder and her son, Shakhu, at a tutoring session.

Adult Literacy Center opens doors for struggling readers
Drake University Adult Literacy Center helped improve the lives of 100 Des Moines-area residents during the last year. Despite this success, these adults account for less than 0.1 percent of the estimated 90,000 Polk County residents who struggle daily to read signs, job applications, medicine labels and even the screens of ATMs.
"My son was having trouble reading," said Barb Browder. "I made a deal with him for both of us to get help." The new literacy skills she developed at the center helped her navigate the complicated process of buying her first house.
The center's success is due the combination of research-based, multi-sensory instruction and the personal relationships formed between the tutors and adult students, said Anne Murr, director of the center.
Seventy-four volunteers donated more than 3,500 hours of time to provide one-on-one free tutoring services in reading and writing during the past year. These volunteers come from a variety of backgrounds and include professionals, retirees, as well as Drake faculty, staff, and students. But they all share a common goal: to improve literacy, self-esteem and the daily lives of struggling readers.
"Working at the Literacy Center is, hands down, the most gratifying volunteer work I've ever done, and I've done a lot," said Joanne Brown, professor emerita of English.
Compared to other literacy programs around the United States, the Drake center has a stronger retention rate with 70 percent of participants remaining enrolled for more than one year. The national average for similar programs is less than 60 percent retention over nine months.
A $75,000 grant from the Verizon Foundation will bring expansion to the center's offerings over the next year. Previously, programs were focused to help readers at the beginner level. The grant will fund classroom instruction for readers at an intermediate-level. In addition, the center will use some of the money to implement a system to assess new readers' progress in order to measure the effectiveness of the center's services.
On Oct. 25, from the 3:30 to 7 p.m., the Drake School of Education will be filled with readers when the center opens its doors to the public for a fundraising event that also aims to spread literacy awareness. As part of the event, students at the center will share their personal stories and explain how reading affects their daily lives. One student, Larry Lehman, will also read from the book he wrote titled "The Man that was Cheated."
For more information about the center, visit the Web site or contact Anne Murr at 1-800-44-DRAKE, ext. 3982.