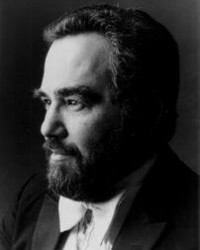 Jack Winerock
CONTACT: Lisa Lacher, 515-271-3119, lisa.lacher@drake.edu
Internationally renowned pianist Jack Winerock, professor of piano at the University of Kansas, will perform works by Schubert, Ravel and Griffes in a solo recital at Drake University tonight (Saturday, Sept. 8).
The recital, which is free and open to the public, will start at 8 p.m. on the Jordan Stage in Sheslow Auditorium in Old Main, 2507 University Ave.
"I have met Professor Winerock at several conferences in recent years, and I can say that he is not only a world-class artist of extraordinary refinement and accomplishment, but he is also a tremendously warm-hearted person," said Nicholas Roth, Drake assistant professor of piano. "We are truly fortunate to host Dr. Winerock and I anticipate a memorable concert on the evening of Sept. 8."
A native of New York City, Winerock received his undergraduate and master's degrees at the Juilliard School of Music and his doctorate from the University of Michigan. His teachers included Sascha Gorodnitzki, Gyorgy Sandor and Leon Fleisher.
Winerock received Second Prize in the International Bach Competition in 1976. Also that year, he made his orchestral debut with the National Symphony Orchestra at the Kennedy Center in Washington, D.C. In 1979, he made his New York debut at Alice Tully Hall in Lincoln Center. Since that time he has received yearly invitations to perform in Europe and South America as well as in the United States. In 1986 he gave the first performance of Gershwin's "Rhapsody in Blue" in the People's Republic of China and in 1988 performed for the first time in Japan.
Winerock has received rave reviews from critics at home and abroad. The New York Times praised him for "A performance of expressive refinement and rare delicacy." The Washington Post described him as "Highly original, individual and tremendously impressive." The London Times noted that "His powerful hands and resourceful technique are directed by a long-sighted view that encompassed the whole work."
For more information about Winerock's recital at Drake, call 515-271-3975. For additional information about Winerock, visit his Web site. Information about Winerock's recordings also is available online.