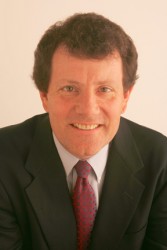 Nicholas D. Kristof
Nicholas D. Kristof, a Pulitzer Prize-winning columnist for The New York Times, will deliver this fall's Martin Bucksbaum Distinguished Lecture at 7:30 p.m. Tuesday, Sept. 25, at Drake University. The lecture, which is free and open to the public, is titled "Why Troubles in Darfur and Other Parts of the World Matter to Us."
The lecture will take place in the Drake Knapp Center. Doors will open at 6:30 p.m. A reception and book signing will follow the lecture.
Kristof joined The New York Times in 1984, initially covering economics and serving as a correspondent in Los Angeles and later becoming bureau chief in Hong Kong, Beijing and Tokyo. He has lived on four continents and reported on six continents. He also has traveled to 120 countries, all 50 states, every Chinese province and every main Japanese island. He is one of few Americans to be at least a two-time visitor to every member of the Axis of Evil — Iraq, Iran and North Korea.
In 1990 Kristof and his wife, Sheryl WuDunn, also a Times journalist, became the first married couple to be awarded a Pulitzer Prize for journalism, winning for their coverage of China's Tiananmen Square democracy movement. Kristof won a second Pulitzer in 2006 for commentary. He is the author and co-author of several books, including "China Wakes: The Struggle for the Soul of a Rising Power" and "Thunder from the East: Portrait of a Rising Asia."
The Martin Bucksbaum Distinguished Lecture Series is made possible by a gift from Melva and the late Martin Bucksbaum, former chairman and president of General Growth Corp. and longtime member of Drake's governing board.