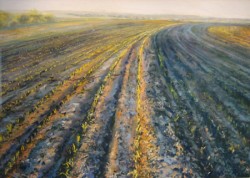 "Young Corn" by artist Bobbie McKibbin focuses on Iowa agriculture for the "Rural Lands Rural Livelihoods Art Show."
Using land and natural resources to revitalize rural Iowa
The Drake University Law School will kick off the 25th anniversary celebration of its Agricultural Law Center with "Rural Lands Rural Livelihoods: Using Land and Natural Resources to Revitalize Rural Iowa," a conference and art show beginning Thursday, Sept. 20.
Organized by the Center in cooperation with the Iowa Natural Heritage Foundation and United States Department of Agriculture Rural Development, Iowa, with funding from the Lillian Goldman Charitable Trust, conference events will be held Thursday, Sept. 20 and Friday, Sept. 21 in Drake's Olmsted Center, 2875 University Ave. This two-day conference will focus on the role of Iowa's land as the basis for rural development and new economic enterprises. Speakers will discuss a range of new ventures underway in Iowa and discuss the motivations of landowners, who view Iowa's land as the basis for new forms of rural vitality.
"The conference will examine various methods of managing, using, and enjoying rural lands to enhance natural amenities," said Neil Hamilton, professor of law, director of the center and conference organizer. "Collectively these amenity-based activities represent a significant development and opportunity for rural residents and all Iowans. Our state is fortunate to have a wide range of public and private organizations working to expand the existence and enjoyment of natural resources and rural landscapes."
The center is sponsoring the "Rural Land Rural Livelihoods All Iowa Art Show," in conjunction with the conference. The show will open with an evening reception from 5:30-7 p.m. on Thursday, Sept. 20, in the Neal and Bea Smith Law Center, 2400 University Ave. The exhibit will continue through Wednesday, Oct. 17. Gallery hours are 8:30-4 p.m. from Monday through Friday at the Drake Law School Neal and Bea Smith Law Center.
The juried art show will feature the work of local professional and amateur Iowa artists and explore the role of art in rural America. More than 30 artists submitted eighty pieces of artwork in categories addressing rural land and life including restoration of native prairies, wineries, raising food for direct marketing, using land for hunting and recreation, wildlife, and natural landscapes. Ignatius Widiapradia, Drake associate professor of art and owner of Padma Gallery, Des Moines, and Lea DeLong, art historian and curator, Des Moines, will judge the competition and winners will be awarded cash prizes totaling $1,200.
Conference keynote speakers include Mark Ackelson, president of the Iowa Natural Heritage Foundation; Mike Tramontina, director of Iowa Department of the Economic Development; Mark Reisinger, executive director of USDA Rural Development; Jerry DeWitt, director of Leopold Center for Sustainable Agriculture and former Iowa Gov. Tom Vilsack. For more information about speakers, visit the Agricultural Law Center Web site.
For more information and a detailed schedule of the conference visit the Rural Lands Rural Livelihoods Web site. Cost for the conference is $75 per person before Sept. 14 and $90 per person after Sept. 14, which includes the conference and all meals.