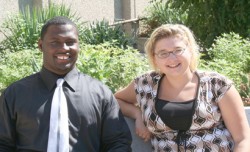 Rickey Hunley and Jessica Lang
Students in one of the largest incoming classes for decades won't have to worry about getting lost in the crowd. The University has hired two recent grads to help shepherd approximately 930 students through their first year at Drake.
Jessica Lang, AS'07, and Rickey Hunley, AS'05 have joined the Vice Provost Office for Student Affairs and Academic Excellence as entering first year advisers (EFR). They are working with entering first-year students and faculty to help students transition to Drake, and to strengthen student and faculty relationships.
"It is beneficial for students because the advisers have close contact with the colleges and schools, student organizations and the Provost's Office. They are so well connected and an excellent resource for students," said Wanda Everage, LA'72, vice provost for student affairs and academic excellence. "We are extremely pleased with their commitment to new students."
Lang worked in residence life at Drake in Crawford Hall as a resident assistant and hall coordinator, and Hunley was a hall monitor and coached varsity football at Des Moines Roosevelt High School. Both advisers have experience working with students who are entering and transitioning to college.
"I've dealt with high school students and worked with students who had concerns that might be the same as those of incoming students" Hunley said. "Our backgrounds will help with some of these issues because we are well prepared."
Through First-Year Seminar (FYS) groupings, Lang and Hunley will tell first-year students about their role. Students will be encouraged to set up individual consultations when they need guidance, and will be free to go to either adviser.
"We have the same goals as the Office of Admission and the colleges and schools," Lang said. "We want the incoming class to have the quality experience we promised — that we market to prospective students and the community — to make sure no student falls through the cracks."
Lang and Hunley are both on the same page. They want students to develop and grow, which means getting involved at Drake.
"You have to get connected. You can't be in your own little world, and we want students to know that getting involved at Drake will make them more successful," Hunley said.