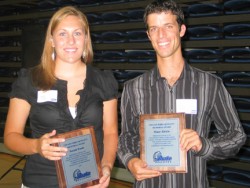 Sarah Foote and Mao Zirkin proudly display their awards.
Drake senior Sarah Foote, who was named the most valuable women's soccer player in the Missouri Valley Conference, and senior Mao Zirkin, who was named the 2007 MVC Tennis Player of the Year, were named co-recipients of the Tim and Jerry Howlett Memorial Award as the school's top athletes for 2006-07 during the annual Drake Corn Feed and Auction Aug. 27.
The award is presented annually to outstanding Drake student-athletes who have received conference/ regional and/or national recognition. The award was named after Jerry Howlett by his wife, Phyllis, who was an athletic administrator at Drake. Tim Howlett is the son whose name was added after his death.
Zirkin, a native of Kibutz Hazor, Israel, has posted a 46-3 record playing the Nos. 1 and 2 singles as a freshman and sophomore.
He was the No. 1 singles player on the Drake team, which won its second straight MVC title this past spring while advancing to the NCAA Tournament.
By being named a first team All-MVC selection at the No. 1 singles, Zirkin was tabbed as the MVC Player of the Year. A four-time league Player of the Week selection, Zirkin ran the table in conference action, posting a perfect 6-0 mark en route to a 20-1 ledger in the dual campaign.



Zirkin and teammate Dalibor Pavic reached the highest ranking in Drake history, being ranked No. 17 in the nation in doubles.
Before his arrival at Drake, Zirkin was the No. 1 player in Israel, posting victories over two junior players who were ranked in the top 10 in the world.
Foote, a forward from Arvada, Colo., set a Drake single-season scoring record with 12 goals en route to earning third-team honors on the All-Great Lakes Region team by the National Soccer Coaches Association of America. She also was named to the All-North Central Region team by Soccerbuzz.com.
Foote helped lead the Bulldogs to their fourth straight MVC regular-season title as well as the championship of the MVC Tournament last year and their first-ever appearance in the NCAA Tournament.
Foote, a two-time MVC Offensive Player of the Week, also was named to the 2006 MVC All-Tournament team. She ranks second on the school career goals scored list with 21, second in career scoring, second in career shots and third in career assists.