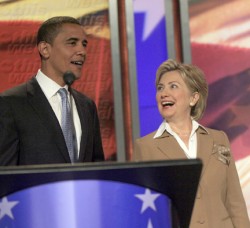 Barack Obama and Hillary Clinton chat during a commercial break.
Drake students played an essential role in the staging of two presidential debates in Sheslow Auditorium this August that were viewed live by millions of voters across the country on ABC's "This Week with George Stephanopoulos."
Approximately 20 students volunteered to help ABC News with the Republican debate on Aug. 5. Most of them returned to assist with the Democratic debate on Aug. 19 and were joined by another 20 student volunteers.
They performed myriad tasks, assisting with production and public
relations as well as standing in for candidates during long rehearsals.
Despite the stress, fast work pace and lack of sleep they endured
(sometimes reporting for duty at 4 a.m.), the students raved about
their experiences.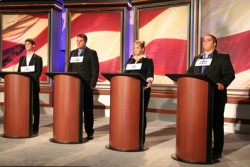 Students pose as candidates during rehearsals for the GOP debate.
(Experience the debates by visiting the online photo gallery for
the GOP debate and the photo gallery for the Democratic debate.)
"I was surprised at how hands-on I got to be," said Emily Brady, a
sophomore radio and TV journalism major from Waterloo, Iowa. "I was not
just getting coffee and sitting around, I was actually a part of the
production process, and had very important jobs! It was amazing!"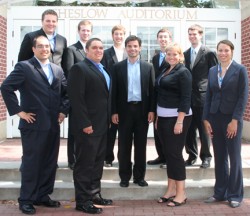 Moderator George Stephanopoulos with students who rehearsed with him for the Democratic debate.
"When I think back on my career at Drake, volunteering for ABC will
most definitely be one of the highlights," said Erin Lain, AS'06, a
second-year law student from Anchorage, Alaska. "I learned so much
about political process, and got a glimpse into the machinery of major
American media. Being able to stand in for Senator Obama really got me
thinking about my stance on some of the issues that we face today."
ABC producers were equally as pleased with the students'
contributions to making the debates run smoothly.
"We were so impressed
with the caliber of the Drake student volunteers who worked with us,"
said Kathy O'Hearn, executive producer of "This Week with George
Stephanopoulos" and executive producer of ABC News' Iowa Debates. "All
dedicated self-starters, each one of these knowledgeable, courteous
students went the extra mile whenever and wherever they could. They
helped make our debates a smashing success."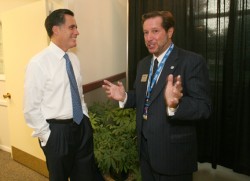 Republican hopeful Mitt Romney chats with President David Maxwell.
Drake President David Maxwell sees the debates as a tremendous
success for the University as well.
"The debates introduce our students
to a public role that they should be taking an interest in," he said.
"Some students have actually told me that this is why they chose to
come to Drake — so they could be part of this process during an
election year. It's a singular opportunity that most students never get
to be a part of and most universities never get to be a part of. It's
what a university should do."
News media converged on campus in record numbers to cover the
debates. Cartwright Hall served as the press filing center, and the
stage in the Harmon Fine Arts Center morphed into the Spin Room, where
candidates, campaign officials and Drake faculty shared their interpretations of each debate.
The GOP debate drew nearly 200 credentialed members of the news
media and the Democratic debate attracted 230. In addition to reporters
from major national media outlets such as The New York Times,
Washington Post and Newsweek magazine, there were journalists from
Australia, Germany and South Korea.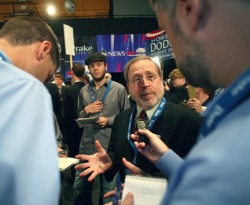 Professor Dennis Goldford does one interview after another in the Spin Room.
Drake was mentioned in more than 1,050 stories about the Republican
debate and 1,690 stories about the Democratic debate, according to the
University's news clipping service.
Faculty members Dennis Goldford, Art Sanders, Rachel Paine Caufield
and Renee Cramer of the Department of Politics and International
Relations provided instant political analysis for reporters and helped
educate them about the Iowa caucuses.
For journalists seeking a different angle on the Democratic debate,
Joan McAlister, assistant professor of rhetoric, analyzed the speaking
styles of the various candidates and their use of rhetorical devices.
"One minute I was talking to a TV station from Sioux City, Iowa, and
the next I was being interviewed by a TV crew from South Korea,"
McAlister said later. "The intense media interest in the debates —
both locally and internationally — was amazing."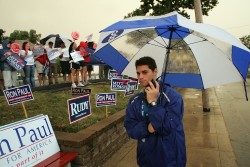 Students and supporters of candidates and causes endure wind and rain.
The atmosphere of each debate was decidedly different.
On Aug. 5, a thunderstorm produced sheets of rain and ominous
lightning flashes as ticket holders sloshed through ankle-deep puddles
to get into Sheslow Auditorium for the GOP debate. Fewer than expected
campaign volunteers showed up due to the stormy weather.
Those who came out to support their candidates despite the storm struggled to keep control of their signs and banners as they were
buffeted by rain and wind.
The weather produced a rare, unscripted moment that reminded
everyone that maybe Iowa is special after all: As the opening theme
music rang throughout the auditorium at the start of the broadcast, the
morning gloom was replaced by brilliant sunlight streaming through the
east-side stained-glass windows.
On Aug. 19, the sky was clear and even though the sun had barely
crept above the horizon, the Drake campus and surrounding area
resembled a typical university town on a college football Saturday
afternoon. Huge banners festooned utility poles and lampposts. Young
people dressed in T-shirts touting their candidate outdid themselves in
cheering, until the chants of "Hil-la-REE! Hil-la-REE!" and
"OH!-Bah-ma, OH!-Bah-ma" and "Go John Go! Go John Go!" melded into a
sleet storm of sound.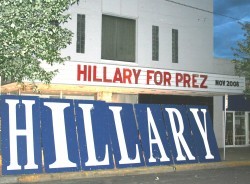 Democratic hopeful Hillary Clinton gets top billing on the Varsity Theater's marquee.
Campaigns held watch parties for hundreds of supporters at
restaurants near campus and the Varsity Theater.
"Events like this are
great for the neighborhood," said Tom Tully, co-owner of DuBay's at 25th
Street and Carpenter Avenue. "They bring people out where they can see
how many changes have taken place, that there's places to be on the
east side of campus."
In the hours and days following each debate, pundits endlessly
speculated about who received the biggest bump. The answer — after
Drake flawlessly hosted two national debates in three weeks — is
unquestionably Drake students, faculty and staff, as well as Drake's
neighbors.