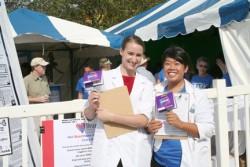 Drake students Sara Newton, left, and Marie Marcelino offer heartburn screenings and Prilosec on a stick at the Iowa State Fair.
Drake students take Heartburn Awareness Challenge to the fair
For fairgoers whose food choices were sticking it to them at the Iowa State Fair, Drake pharmacy students offered an appropriate remedy: a free heartburn screening — and a free sample of Prilosec on a stick.
During five days of the fair, pharmacy students conducted approximately 90 screenings, handed out hundreds of brochures and talked to a diverse group of both heartburn sufferers and non-sufferers. Student pharmacists strengthened their communication skills on how to talk to fairgoers about their condition and treatment as they gained one-on-one experience.
Marie Marcelino, co-chair of the Heartburn Awareness Challenge, and Sara Newton, both in their third year of Drake's Doctor of Pharmacy program, conducted screenings sponsored by Drake's College of Pharmacy and Health Sciences and the American Pharmacists Association Academy of Student Pharmacists.
"Being my first event as co-chair of the Heartburn Awareness Challenge, it was both a challenging and rewarding experience," said Marcelino. "My goal for this event was just to raise awareness and I think that the goal was more than surpassed."
The "Prilosec on a Stick" fit right in with popular food choices at the fair. "Many of the most popular foods have a high fat or acid content and are coded red for 'Stop, You may want to reconsider this choice' on the food guide published by the National Heartburn Alliance," Marcelino said. "By handing out the guides and doing these screenings, we hoped make people more aware of how they can avoid heartburn by making good food choices."
"We train our student pharmacists to be effective communicators so patients will get the maximum benefit from their medications," said John Rovers, associate professor of pharmacy and APhA-ASP chapter adviser. "'Prilosec on a Stick' shows how Drake student pharmacists can educate patients using communication techniques appropriate for the occasion. I thought it was a brilliant idea!"
"Overall, the Heartburn Awareness Challenge at the Iowa State Fair was a huge success for heartburn sufferers, student pharmacists and for the health of our Iowa population," said Newton.
The success from the Iowa State Fair event will drive pharmacy students to continue their awareness challenge in the 2007-08 academic year at various health fairs, nursing homes and pharmacies. They will also conduct patient care projects for diabetes and immunization along with the Heartburn Awareness Challenge throughout the year.