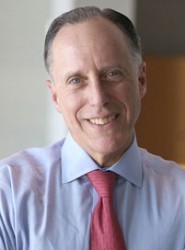 Larry Fish
Chairman of American unit of Royal Bank of Scotland to Speak at Drake
Drake University alumnus Larry Fish, chairman of the America unit of the Royal Bank of Scotland, will lead off this fall's Executive in Residence series in Drake's School of Management and Communication.
He will give a public lecture titled "The Service Economy – Does Anyone Remember How to Deliver Service?" at 7 p.m. Tuesday, Sept. 11, in Sheslow Auditorium in Old Main.

The Executive in Residence series brings professionals to campus to share their career experiences with business and journalism students and to deliver a public lecture.
Fish is currently chairman of the America unit for the Royal Bank of Scotland (RBS). The RBS America unit owns Citizens Bank. Previously, Fish was chairman and CEO of Citizens Financial Group Inc., Providence, R.I. Citizens Bank has grown to 27,000 employees in more than 30 states since Fish joined the company in 1992, and is now the eighth largest commercial bank holding company in the United States.
Fish is also a director of the Royal Bank of Scotland Group and Textron Inc., as well as a member of the Board of Trustees of The Brookings Institution in Washington, D.C. In 2002, Fish was named a director of the Federal Reserve Bank of Boston. He also serves on the Board of Trustees of the Massachusetts Institute of Technology.
Before receiving an honorary doctorate degree and graduating from Drake University in 1966, Fish earned a master's degree from the Harvard Graduate School of Business Administration, and honorary doctorate degrees from Providence College, Bryant University, Roger Williams University, Johnson & Wales University and the University of Massachusetts. As a recipient of Harvard's Frank Knox Fellowship, Fish did graduate study at the London School of Economics and traveled in India.
Fish and his wife, Atsuko, reside with their children in the Boston area.