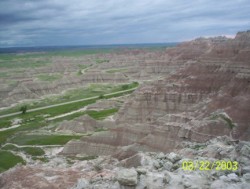 The vast landscape of the Badlands was the subject for artists in Angela Battle's summer painting course.
Summer classes usually sound like a chore for most students, but students in Angela Battle's course, Walking: Making Art Out There, would disagree.
After becoming familiar with the tradition of landscape art from the 18th through 21st centuries, 11 students packed their bags and traveled to the Badlands National Park in South Dakota for an eight-day artistic adventure. Battle led students on hikes ranging between one to three hours in length, with the longest distance covering six miles in one day.
"There was a lot of rainfall during the season, leaving the landscape very green and lush," Battle said. "There was an array of blooming wildflowers and beautiful scenery."
Students went on sketch walks, where they would take a break from hiking and use basic art materials to sketch the scenery on small clips of paper. They then took the sketches back to their studio and derived paintings from them. The students' artwork was recently displayed in the Weeks Gallery in the Harmon Fine Arts Center.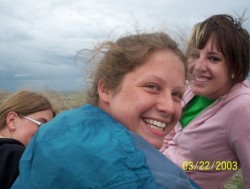 Students Mistique Hecksel-Read, Angela Warren and Holli Brown sit at the top of the peak in Badlands National Park.
"The country out there is beautiful, wild and seems to almost radiate some sort of ancient feel that the rest of the world lacks," said Hannah Thiessen, a painting major from Marshalltown, Iowa. Thiessen took the course because it combined her personal interests of painting and camping.
While on the trip, a group of students hiked up a butte located just off Saddle Pass Trail and made a discovery millions of years in the making.
"We went boulder scrambling and really got off the path, taking the most roundabout and hardest ways we could find to get up to the top," said Frederick Warren, a junior education and environmental science double major from Naperville, Ill. " On the procession down, I noticed a jawbone, almost underfoot on the trail. We reported it and they then excavated it."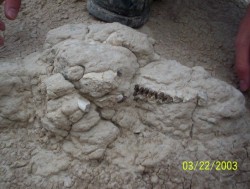 The oreodont fossil is a skull fragment containing three molars and three premolars.
The National Park Service identified the fossil as a 30- to 32- million-year-old skull fragment of an ancient animal known as an oreodont. Oreodonts were mammals similar to sheep that roamed savannah-like terrain in large herds.
"Badlands visitors are asked to report any fossil sightings to the National Park Service," Battle said. "Our students had 'open eyes' on the trail, leading to the discovery."
Warren and Thiessen both say they would recommend this course to other students.
"The best parts of the trip were getting back in touch with art and getting in touch with nature while simultaneously ditching the rest of the world," said Warren.
"Experiencing the Badlands is so indescribable; you learn from the sunsets, rain, erosion and the strange, almost foreign animals," said Thiessen. "Once you're there you can't get enough of it."