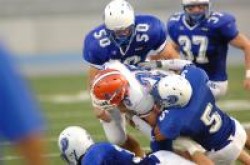 Defensive tackle Andrew Asbell (50) and cornerback Poul Collins played key roles in Drake's season opening victory.
Football team opens Loney era with stunning upset of Illinois State
Cole Ingle threw a 56-yard touchdown pass to Augustine Agyei with 23.2 seconds left to power Drake to the biggest victory in its 22-year history of nonscholarship football Aug. 30, a 27-24 season-opening upset of Illinois State, Normall, Ill.
"What can you say, to move the ball 95 yards at the end of the game when everyone in the stadium knew we were passing was unbelievable," said Steve Loney, making his head coaching debut at Drake after being named the interim coach June 18. "Never in my wildest dreams did I think about this," Loney added. "These guys have made my life wonderful."
Drake's winning drive started on its own 10-yard-line with 1:23 left. A minute later, on second down and 10 at the Bulldog 44, Illinois State cornerback Jason Tate tipped Ingle's pass into the hands of Agyei (Aurora, Colo.). The sophomore grabbed it for his first college reception and sprinted down the left sideline into the end zone, stunning a crowd of 12,167 fans at Hancock Stadium.
"I saw the cornerback [Tate] jump and thought I had a chance to catch it," said Agyei, who has been a sprinter on the Drake track and field team the past two seasons. "Then all I was thinking was score…get in the end zone."
The Bulldogs were a heavy underdog in the game against a squad that featured first-team All-Gateway Football Conference quarterback Luke Drone. But a young Drake defense intercepted him three times. Sophomore linebacker Cale Hunt (Littleton, Colo.), making his first college start, intercepted Drone on Illinois State's first play in the third quarter and returned it 24 yards for a touchdown.
All Drake's scoring came in the second half, including 36-yard and 35-yard field goals by junior Logan Rees (West Des Moines Valley) and Ingle's 28-yard touchdown pass to senior tight end Dan Marx (Maple Grove, Minn.).
Ingle, who alternated at quarterback with junior Derek Retherford (Johnston), completed 10 of 18 passes for 197 yards while playing the entire second and fourth quarters. Retherford completed 7 of 13 passes for 67 yards.
Drake senior Scott Phaydavong (Des Moines East) enjoyed his 26th career 100-yard-plus rushing game with 111 yards in 30 carries. Phaydavong entered the game as the leading active rusher in the Championship Subdivision with 4,572 yards.
Junior Zach Brower (West Des Moines Valley) led Drake receivers with six catches for 61 yards, while senior Travis Hardgraves (Sioux City West) had five for 62 yards. Marx caught four passes for 62 yards.
Hunt and senior safety Jacob Craig (Mount Vernon, Iowa) made 10 tackles apiece. Junior cornerback Poul Collins (Cedar Rapids Washington) added seven, forced a fumble and intercepted a pass.
The Bulldogs open their home season Saturday, Sept. 8, at Drake Stadium against Waldorf beginning at 6 p.m.