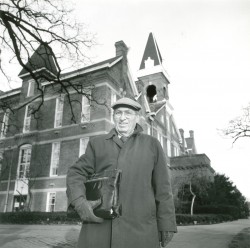 Athletic Historian and Consultant Paul Morrison, JO'39, is as much a fixture at Drake as Old Main.
Join the Drake University Alumni Association, the Department of Athletics, and the Bulldog Club this fall for a variety of pre-game gatherings in the North Plaza of historic Drake Stadium. And be sure to wear your Drake blue.
Saturday, Sept. 22, vs. Northern Iowa: Last year, alumni and friends "blue out" Drake Stadium with one of the biggest crowds ever against UNI. That's the goal again this year. Fans can gather on the North Plaza/Sodexho Patio at the north end of Drake Stadium for a pep rally picnic starting at 4 p.m. Picnic cost is $12 per person; tickets for the 6 p.m. game are $15 each. Fans must have a game ticket to enter the stadium.
Saturday, Oct. 6, Homecoming game vs. Butler: Come back home to Drake Stadium to celebrate the life and legacy of alumnus and true Drake legend Paul Morrison and his 90th birthday, and to salute Drake's mighty 1957 Sun Bowl team. Festivities kick-off at 11 a.m. with a tailgate party and picnic; cost is $15 per person. Tickets for the 1 p.m. game are $10 per person. Fans must have a game ticket to enter the stadium.
Saturday, Oct. 27, vs. Jacksonville, and Saturday, Nov. 10, vs. Dayton: Fans can again gather on the Sodexho Patio two hours before kickoff for each of these 1 p.m. games. Enjoy your favorite pre-game food, available for purchase, along with inflatable games for the kids and camaraderie with fellow Drake alumni and Bulldog fans.
To purchase game and tailgate tickets, contact the Drake Athletic Ticket Office at 515-271-DOGS, or visit the the Web site and click on "tickets."