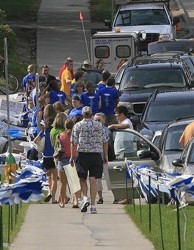 No matter how old you are, you can remember the first time you left home.
Drake first year students and their families share their thoughts with
Pulitzer Prize winning photographer Dave Peterson as they begin their Drake
experience. Dave captures the emotion, the fun and the beauty of the Drake
campus on move-in day.
View the video slideshow now:
(Full Size / Small Size)
Note: Adobe Flash Reader 9 is required to view this video content and a hi-speed internet connection is recommended.