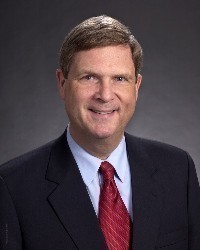 Former Gov. Tom Vilsack
CONTACT: Lisa Lacher, 515-271-3119, lisa.lacher@drake.edu
Nationally known legal scholars, attorneys and government leaders will gather Friday, Sept. 7, at Drake University Law School's Legal Clinic for a conference being convened by former Iowa Gov. Tom Vilsack, who is a visiting distinguished professor of law at Drake.
The conference, which is open to the public, will focus on risk and responsibility in the 21st century and explore changing attitudes toward risk — who should be responsible for it, and how it can be measured and managed, including the role of insurance and the role of government.
"We need to understand more about risk, how we define it and who determines what and what is not acceptable risk from a legal perspective," Vilsack said. "We also need to consider how risk intersects with the work of government, for example, the risk that the levee system would fail in New Orleans during Katrina or the risk of terrorism, including bio-terrorism."
"The notion of risk is pervasive in our society and our attitudes towards it are changing," Drake Law School Dean David Walker said. "Some people take risks, while others — both in the private and the public sector — may become risk averse and everything from economic development to the common good may suffer. We have worked to spread risk through insurance, and the insurance industry has fared very well. Yet we have to ask whether there are limits to what should or can be accomplished through insurance."
Nationally prominent speakers include:

Philip K. Howard,

a best-selling author and a partner in the
international law firm of Covington & Burling, who will discuss
"The Dynamics of Legal Risk." Howard's books include "The Death of
Common Sense: How Law Is Suffocating America" and "The Collapse of the
Common Good: How America's Lawsuit Culture Undermines Our Freedom."

Marc R. Stanley,

former president of the Texas Trial Lawyers
Association and Dallas Trial Lawyers Association, and board member of
the American Association for Justice, who will give a presentation
titled "When Bad Companies Happen to Good People." Stanley has served
as lead class counsel in several nationwide and statewide class
actions, including suits for deceptive trade practices and for product
liability.

Tom Baker,

the Connecticut Mutual professor of law and director of
the Insurance Law Center at the University of Connecticut School of
Law, who will talk about "Embracing Risk, Sharing Responsibility." He
is the author of "The Medical Malpractice Myth," "Insurance Law and
Policy" and "Embracing Risk: The Changing Culture of Insurance and
Responsibility."

David Moss,

the John G. McLean professor at Harvard Business
School, who will discuss the role of government in risk management in
his presentation, which is titled "When All Else Fails." He has written
several books, including "When All Else Fails: Government as the
Ultimate Risk Manager," which won the Kulp-Wright Book Award presented
by the American Risk and Insurance Association.
There also will be a panel presentation and discussion on
"Defining, Measuring, Managing and Facing Risk" that will feature Iowa
Insurance Commissioner Susan Voss, Cedar Rapids Mayor Kathleen Halloran and Drake Associate Professor of Finance Tom Root.
Former Gov. Vilsack, an attorney with Dorsey & Whitney, will
give the introduction and conclude the conference with a presentation
on "Acceptable and Unacceptable Risk: Anticipation and Accountability."
The conference will begin at 8 a.m. in the courtroom of the Neal
and Bea Smith Law Center, 2400 University Ave. Registration is limited
and costs $100 per person, which covers the conference, a continental
breakfast and lunch. Application has been made for six hours of Iowa
and federal Continuing Legal Education credit. For more information,
call Bill Hennan at 515-271-2955 or visit the Law School Web site. To
register, send an e-mail to lawcle@drake.edu or call the Drake
toll-free CLE number: 1-800-940-2119.