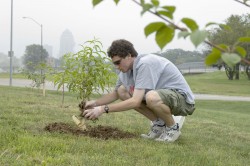 A Drake student plants a tree during last fall's community service activities.
CONTACT: Dolph Pulliam, Saturday Service Projects, 515-201-7166, dolph.pulliam@drake.edu;

Deidre Howard, Back to School Bash, 918-260-4264, dhoward@bankerstrust.com
Before they attend a single class or hit the books, first-year Drake University students will get a lesson in community service this weekend.
From 10 a.m. to noon on Saturday, Aug. 25, hundreds of first-year students will tackle a variety of service projects in the Drake Neighborhood, including picking up litter, weeding flower beds and washing windows.
On Sunday, Aug. 26, approximately 100 new and returning Drake students will join community activists in conducting the third annual Back to School Bash from 2 to 5:30 p.m. at the John R. Grubb YMCA, 1611 11th St.
The bash will feature a carnival with field and inflatable games, music from a disc jockey, free refreshments and a prize raffle drawing for elementary and middle school students. The first 500 students will receive free school supplies. There also will be a basketball shoot-out in crossover, dunk, three-point and free-throw tournaments. Drake athletes will participate as the tournament judges, and winners will receive cash prizes.
"We first started the Back to School Bash to connect Drake with the community," said Deidre Howard, one of the founders of the event and a senior majoring in broadcast news and politics. "It benefits everyone, so we keep it going."
Dolph Pulliam, Drake director of community outreach, said he is pleased so many Drake students are starting off the new school year by performing community service. "Their involvement shows residents in the Drake Neighborhood and others that our students are not only happy and excited about coming to Drake and the city of Des Moines," he said, "but they also want to let everyone know that this is now their new community and they want to make a difference here."
The Saturday morning service projects are listed below:
Brookdale Ramsey Village, 1611 27th St. — Washing exterior windows, grounds- keeping work and interacting with residents.
Drake Park, 24th Street and Drake Park Avenue — Picking up litter, weeding flower beds and possibly painting playground equipment.
Neighborhood Cleanup — Picking up litter along streets and alleys in the 50 square blocks between Cottage Grove Avenue and Clark Street and 24th Street and 34th Street.
Michael's Garden at 25th Street and Cottage Grove Avenue — Pulling weeds and other gardening maintenance.
Drake Black Cultural Center, 1149 28th St. — Assembling hundreds of back to school packages for inner-city children with supplies donated by area businesses.
Olmsted Center, 29th Street and University Avenue – Compiling hundreds of "literacy packets" for school children that include pencils, notebooks and pens donated by local businesses. Making placemats featuring animal designs for children's parties at the Animal Rescue League.
35th Street and University Avenue – Distributing Drake Neighborhood Association fliers to residents living between 35th and 42nd streets and between University Avenue and I-235.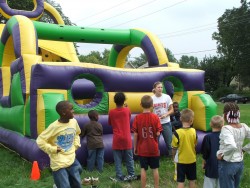 Children enjoy inflatable games at the first annual Back to School Bash.
Sunday's Back to School Bash is sponsored by the YMCA, NAACP Youth
Council, Drake Student Activities Board, Drake Student Body President
Dan Sadowski, Des Moines Parks and Recreation, Bankers Trust, American
Red Cross, Mercy Medical Center, Wal-Mart, Drake Athletics, KJMC Radio,
Drake Coalition of Black Students, Target, Iowa Rep. Ako Abdul-Samad,
Making Connections, Concerned Citizens for Justice, Drake La Fuerza
Latina, Qwest, Drake University Bookstore, Platinum Kuts, Weed and Seed
Grant, Hy-Vee Corp., Kum & Go, ING, Hip Hop Heaven and the Alliance
of Black Telecommunications Professionals.
Other organizations involved with the bash are Zeta Phi Beta
Sorority Inc., Delta Sigma Theta Sorority Inc., Primary Health Care,
Drake Admission Office, Drake Army ROTC, Des Moines Police Dept., the
Barack Obama Campaign, Iowa DLeague, American Cancer Society, Kappa
Alpha Psi Fraternity Inc., Omega Psi Fraternity Inc., INIKATE, Alpha
Phi Alpha Fraternity Inc., the Hillary Clinton Campaign, Planned
Parenthood, Jack and Jill, Mercy Hospital, Principal Financial Group,
US Bank, Phi Beta Sigma Fraternity Inc., Cornerstone Family Church,
Concerned Citizens for Justice, Tiff's Group, Alpha Kappa Alpha
Sorority Inc., Moulton Elementary PTA, Forest Avenue Library and Miss
Black Iowa USA Pageant.