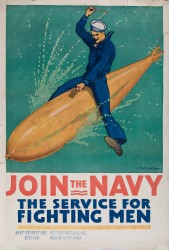 "Join the Navy" by Richard Fayerweath Babcock, 1917.
CONTACT: Heather King, 515-271-1994, heather.king@drake.edu;

Lisa Lacher, 515-271-3119, lisa.lacher@drake.edu
Drake University's Anderson Gallery will open its fall season with "Selling the War: Posters of World War I," an exhibition of 33 original propaganda posters on loan from the State Historical Society of Iowa. International posters will be featured alongside American posters, all exemplifying early 20th century design.
The exhibition will open Friday, Sept. 7, with a reception from 5 to 7 p.m. in the Anderson Gallery in the Harmon Fine Arts Center, 25th Street and Carpenter Avenue. Libby Chenault of the University of North Carolina at Chapel Hill will give a public lecture titled "Appealing Images: Posters of the Great War in Perspective" at 4:30 p.m. Thursday, Sept. 20, in room 336 of the Harmon Fine Arts Center. In addition, Jack Lufkin, curator of the State Historical Society, will conduct a gallery walk at 4 p.m. Tuesday, Oct. 9. The exhibition will continue through Oct. 12.
The posters represent a broad spectrum of the techniques used by artists to unify the American public and encourage participating in the war effort — whether it be by enlisting in the armed services, purchasing Liberty Bonds or aiding in relief and conservation efforts. Posters were extremely successful devices of propaganda; they could go anywhere. In just two years, artists produced more than 2,500 posters that were then reprinted more than 2 million times.
The best artists of the day were involved in producing evocative images in support of the war effort, including James Montgomery Flagg, Howard Chandler Christy and Charles Dana Gibson. The Drake exhibition will include posters by other acclaimed artists such as Kenyon Cox of Des Moines, Joseph Pennell, Ellsworth Young, John Norton and John E. Sheridan, alongside examples of European posters from the same period.
"When the United States wished to make public its wants, whether of men or money, it found art — as the European countries had found — was the best medium," said Pennell, an American etcher, lithographer and writer who was one of the major book illustrators of his time.
The exhibition and all of the events are free and open to the public. Gallery hours are noon to 4 p.m. Tuesday through Sunday. For more information, contact Heather King at 515-271-1994 or heather.king@drake.edu.