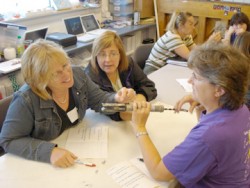 Science teachers from central Iowa investigate a mysterious physics-related object as an inquiry-based learning activity.
Drake professor's science program gains following among Iowa teachers
Drake professor Jack Gerlovich and his Science Pioneers Professional Development Program team are putting the "success" in succession this summer as the program gains a following among teachers in central Iowa.
Of 20 teachers who took part in last summer's camp, five returned this summer as repeat participants and two signed on as teacher leaders who work to develop and organize the program.
Science Pioneers is a succession of three-week camps designed to teach elementary and middle-school teachers a hands-on, or "inquiry-based," method of teaching science. The program was started three summers ago by Gerlovich, the Ellis and Nelle Levitt distinguished professor of education.
"The fact that these teachers liked the program enough to carry into it into their classes is exciting and encouraging in itself — but to have two of them come back and help share it is really special," said Kaitlyn Hood, ED'05, professional development coordinator for the project.
Also involved in the project are Kris Kilibarda, AS'01, GR'97, GR'06, assistant professor of science education at Central College; David Blair, science supervisor of the Green Valley Area Education Agency; and former Drake faculty member Dennis McElroy, assistant professor of technology and education at Graceland University.
Cathy Smith, a fourth-grade teacher at South Elementary in Central Decatur, is one of the new teacher leaders. She said last year's camp greatly improved her science teaching methods.
"After I started doing inquiry-based activities in the classroom last year, I wanted to share the experience with other teachers and get involved. It's a wonderful project and a great way of trying to get kids interested in science."
Smith said she has three high school-aged children — two who love science and one who says it's boring. "Science isn't supposed to be boring," she said.
The first part of this summer's camp, which ended in June, focused on "Forces in Motion" and had 25 teachers building water rockets, racing K-Nex cars and navigating high-tech obstacle courses. Smith said teachers are sometimes skeptical of integrating the activities into their classrooms because it takes extra time to gather the materials, but that the rewards were greater than the challenges.
"If you keep the materials handy, you always have them. And once you're in the classroom, you're not doing much except observing."
The Science Pioneers program began in Des Moines and now focuses on schools in surrounding areas. Taking part this summer are teachers and students from schools in Central Decatur, Mormon Trail, Murray and Lamoni.
Teachers will engage approximately 170 students, ranging in grade from first to seventh, in original inquiry-based activities during the second part of the camp, which takes place from Tuesday, Aug. 7, to Friday, Aug. 10. Activities will be presented every day from 9 to 11 a.m. and 1 to 3 p.m.
Hood said she's not sure what kind of activities teachers will have in store for the students, but that it's sure to be fun.
"Things are sure to get a little messy," she added, "but we'll have a great time."