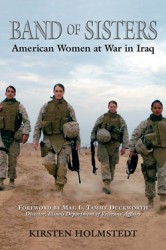 Kirsten Holmstedt's book, "Band of Sisters: American Women at War in Iraq".
Kirsten Holmstedt, JO'85, is the author of a new book that tells the true-life war stories of 12 women in the military. Published by Stackpole Books on July 4, "Band of Sisters: American Women at War in Iraq," includes testimony by the first black female combat pilot, the first female pilot to survive a plane crash and the victim of an IED explosion.
Holmstedt spent hundreds of hours interviewing the veterans in person, by phone and by e-mail. Every story featured in the book includes the personal accounts of more than one soldier.
According to Pentagon figures, some 167,000 women have served with the U.S. military in Iraq and Afghanistan. Women are still banned from fighting on the front lines, but Holmstedt argues that Iraq does not have front lines. To date, more than 80 women have been killed in action and more than 500 have been wounded in those countries – almost twice as many as were killed in action in Korea, Vietnam and Desert Storm combined.
Holmstedt is quickly becoming a voice for female soldiers in Iraq. Booklist called "Band of Sisters" "invaluable as well as readable." Jim Lehrer flew her to Washington, D.C., to be part of a panel on women in combat. She's got book signings and interviews every day this week and into next.
"The journalism school at Drake University laid the foundation for everything I'm doing today," Holmstedt said. "One of the things I feel like they really taught me at Drake is the ethics of journalism, and I think it carries over into my stories and into my book."
She also developed a strong friendship with Bob Woodward, professor emeritus of journalism. "What I remember more than his courses are the encouragement and support I received from him outside of the classroom. He really was a full-time professor — he was always available when I needed him."
She's spent the last 20 years writing for newspapers, business, academia, and magazines, and currently works in public relations at Coastal Carolina Community College in Jacksonville, N.C. She has won awards for her writing at the regional and national levels.
Research for "Band of Sisters" began in the fall of 2003 as a degree requirement at the University of North Carolina-Wilmington, where Holmstedt has since received her master of fine arts degree in creative nonfiction.
"Most of the other students were writing memoirs, but I didn't want to write about myself," Holmstedt said, adding that she had always been more interested in others. "A friend of mine once told me, 'Some people are interested in how a clock works, but you're more interested in what makes the clockmaker tick.' "
Her community in Jacksonville is not far from Marine Corps Base Camp Lejeune, so female Marines and soldiers are a common sight. When the United States invaded Iraq in early 2002, she knew that many of the soldiers would be sent to war.
"I was watching women go off to war in greater numbers than ever before, listening to debates about women in combat and thinking about the 9/11 attacks – and wondering, if this had happened 20 years ago, how would I have responded?"
She interviewed soldiers of all ages, military ranks, tasks and experiences. Her greatest difficulties were keeping in touch with soldiers as they traveled in and out of the country, learning the military jargon and making sure the soldiers didn't understate their own experiences.
"The way the women talked, you'd think it was just another day at the office. They'd say, 'Oh, today I dropped a bomb on enemy targets,' or 'I had to fire a missile at Iraqi insurgents who had fellow marines pinned down,' in a completely monotone expression." What seems an amazing feat to a civilian can feel humdrum to a soldier, she said.
"For them, it's not unusual," she added. "It's the norm. It's what people are doing over there every day."