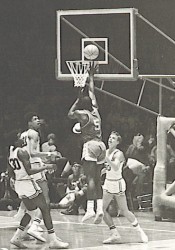 Dolph Pulliam (5) takes a shot against UCLA players, including Kareem Abdul-Jabbar, in the 1969 NCAA Final Four.
The Drake men's basketball team recently scored the No. 2 spot on The Des Moines Register's "Iowa's Best," a list of the top 20 sports teams in Iowa's history. Listed between University of Iowa football and wrestling, the Bulldogs' seat-gripping game against UCLA in the 1969 NCAA Final Four tournament marked an unprecedented rise to near victory for the team.
The Bulldogs gained a spot in the Final Four after winning a share of the Missouri Valley Conference title, beating Louisville in a playoff and taking Texas A&M and Colorado State in the NCAA Tournament.
The team faced off against the legendary 7-foot-2 Lew Alcindor, later Kareem Abdul-Jabbar, with UCLA closing the game 85-82. Drake's near win marks the narrowest victory for UCLA in 12 NCAA Tournament games with Adbul-Jabbar, from 1967-69.
Rick Wanamaker, JO'70, told the Register that Drake would have won if the game lasted 30 seconds longer. "We were a running team and we were in shape. They were spent. (Abdul-Jabbar) was out of gas at the end."
The University's placement near the top of the list came on the heels of the recent death of team member Alfred "Al" Williams, AS'70, who is still ranked on the Bulldogs' all-time season rebounding list with a 13.0 per-game average his senior year. Last year Williams, a junior during the three-point loss to UCLA, was named to the 1970-79 all-decade team.
Al Silverman, JO'70, praised Williams' humor and character on and off the court. "He was always approachable and never let fame go to his head. He was just an all-around good guy who lit up the campus with his wonderful smile and demeanor."
Remembering the camaraderie among his teammates during the championship game, Dolph Pulliam, FA'69, remarked on his pride for the team's accomplishments. "To be named the No. 2 all time team in Iowa's history completely blew me away. I was just so proud it made me speechless."