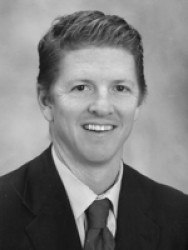 Geoffrey Lawton, PH'91
Lawton honored by American Society of Health-System Pharmacists
Geoffrey Lawton, PH'91, has been designated as one of the 2007 Fellows of the American Society of Health-System Pharmacists by the American Society of Health-System Pharmacists (ASHP) Practitioner Recognition Program. In selecting the fellows, ASHP looks for distinguished pharmacists who have contributed to the pharmacy practice and sustained practice excellence for at least 10 years.
"It is important because it recognizes sustained contribution to pharmacy practice," Lawton said. "I am honored to be recognized for making a contribution to health-system pharmacy practice management."
Lawton has won numerous awards, including the ASHP Best Practices Award in Health-System Pharmacy in 2003, the Distinguished Young Pharmacist in Colorado in 1997, the Colorado Pharmacists Society President's Award for Leadership in 1998 and Pharmacist of the Year in Colorado in 2006.
Lawton is vice president of business development for Littleton and Parker Adventist Hospital in Denver, Colo. He also has worked to improve the safety of hospital medication use, helped establish a clinical pharmacy specialty practice in emergency medicine at the Medical Center of Aurora and served as membership chair and board member for the Colorado Pharmacists Society, among other contributions to the practice.
While at Drake, Lawton was first introduced to hospital pharmacy practice. After earning his bachelor's degree in pharmacy from Drake, he received a master's degree from the University of Colorado and is now a PharmD candidate at the University of Kansas.