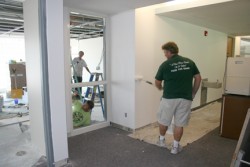 A painter puts some of the finishing touches on new Career Center.
New Career Center for CBPA opens in Aliber Hall
The College of Business and Public Administration is taking the school's career focus to the next level by creating the new CBPA Career Center. Sponsored and funded by Wells Fargo Bank, this new space in Aliber Hall will offer career services and benefit students, faculty and employers who are recruiting on campus.
"Thanks to the generosity of Wells Fargo Bank, the College of Business and Public Administration is now able to offer students a state-of-the art center dedicated to assisting them with their internship and career needs. The center will also enable us to better serve our corporate partners as they search for prospective employees," Dean Charlie Edwards said.
Just one of the benefits of this multi-functional space is that students will have access to the University's Online Career bluePrint system on wireless laptop computers. "With the introduction of Career bluePrint, employer on-campus recruiting is coordinated on the system as well as job postings. It is an easy system to navigate and an excellent tool for employers to find outstanding candidates," said CBPA Career Services Manager Annette Watson.
The center also offers a place for students to get career counseling, work on resumes, research companies and look at internships and full-time employer listings and salary information for students. Resources for students will include a library of career-related books, employer and salary information for students.
"Building relationships with employers is a large component of our career services area," Watson said. The center will serve as a place for employers to recruit and interview students on campus with access to checking email, messages and a place to take breaks. The center also provides a space for career related presentations without taking up classroom space during the day, and the space will be used as a classroom in the evening.
"This is a win-win situation for all parties," Watson added. "The College of Business and Public Administration is focused on helping students with career planning and obtaining real world experiences. The faculty supports the Career Center, which compliments the college's mission: 'To educate effective business and professional leaders by bringing the world into the classroom and taking the classroom into the world.'"