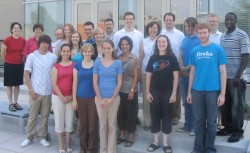 DUSCI 2007 Summer Research Program students and mentors.
Summer Undergraduate Research Program a success for students and mentors
Thursday, July 26, marked the conclusion of the 2007 Drake Undergraduate Science Collaborative Institute (DUSCI) Summer Undergraduate Research Program. Students presented their final projects in Olin Room 211 on topics in psychology, chemistry, pharmacy, astronomy, computer science, mathematics, neuroscience and physics. Although the summer program is finished, these students made it clear that their research will continue.
"I am not surprised students are interested in continuing their research after the summer program ends since their research project is not just another project — it becomes a part of them. The research project challenges them, and the reward is not a grade; it is the discovery of new knowledge," Maria Bohorquez, associate professor and director of DUSCI, said.
Participants seek an adviser and submit an application and research proposal for the program that includes details on their topic and research project. The program is eight weeks long and students work a full work day from 9 a.m. to 5 p.m. Monday through Friday. Every Friday students give an informal presentation on their research.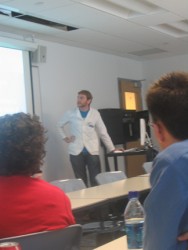 Benjamin Kacner presents final summer research project.
Sporting his white coat, pharmacy student Benjamin Kacner presented his research on customizing pediatric drugs formulations for certain situations. His research focused on making medicine into a liquid form for pediatric patients. In part, his topic came from a common problem at Blank Children's Hospital with young children having difficulty swallowing medicines that come in tablet form.
"In independent study we have a senior presentation, so this summer provided me with the opportunity to do research and I can use it again — a great opportunity," chemistry major Kristen Bernard said. Much like Kacner, Bernard will continue her research into next semester. She also said this program will help prepare her for grad school after graduating from Drake next year.
After presenting, both students thanked their mentors and DUSCI for the opportunity they had to be a part of the program this summer. DUSCI funded most of the projects along with Research Corporation and Grow Iowa Values Fund.
"The student and mentor share the passion for the unknown, and they are thrilled when they find the answers to their problem. Trust and respect define the student-research mentor relationship," Bohorquez said. She concurred that this relationship is one of the reasons why the program is successful.
In addition to their research, students went on two field trips to Kemin Industries and the Drake University Municipal Observatory. The program also offered workshops on laboratory safety, library searches and resume writing.
"These students are being challenged to learn, produce and perform as graduate students," Bohorquez said. "They are being challenged to learn at a level of a graduate student in the sense that they are expected to present their work as if they were going to a national conference, obtain results that could be published, and write their research findings in a format of a publication. These students are not only prepared to face the challenge of graduate school but they gain confidence on their abilities."
More information on the Summer Research Programis available online.