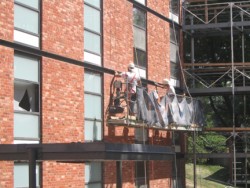 Workers from Weitz Construction remove the old brick and mortar from the exterior of Stalnaker Hall, one of several Drake buildings to be renovated this summer.
In preparation for one of the largest first-year classes in Drake's history, the university is taking major steps to ensure every student an exceptional learning and living environment.
Reports indicate that this fall's incoming class will number at approximately 962 students, compared to the 781 students who entered last fall. Drake's largest entering class in recent decades was 911 students in 1988.
Academics
To meet the academic needs of incoming and current students, Drake has hired five full-time visiting professors: two professors of English and one professor each in the fields of history; law, politics and society; and rhetoric. Two entering first-year advisers, or EFR advisers, have been hired to work with and on behalf of first-year students.
Nine new options for First-Year Seminar courses, which are courses every first-year student is required to take during his or her first fall semester, have been added to Drake's course listings.
Several summer renovation projects, planned independently of the entering class size, are also in full swing. Drake will have renovated more than 30 medium-sized classrooms by the start of classes this fall. These renovations will provide flexible and accessible classrooms designed to accommodate current learning and teaching styles. A new media lab for journalism is being built in Meredith Hall. Also this summer, Medbury Honors Lounge will receive a total facelift of new paint, floor coverings and furnishings. A pharmacy compounding lab is being created in Harvey Ingham Hall.
"We are committed to providing the quality academic experience that is the hallmark of Drake University," said Provost Ron Troyer. "The faculty members hired are excellent teachers. The classroom renovations are on schedule and other changes are proceeding according to our plan. We will be ready and students will receive the excellent education that they were promised."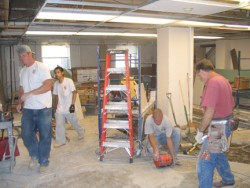 Neumann Construction workers hard at work adding 30 new student rooms in the basement of Morehouse Hall.
Residence Halls
Because of the large incoming class size, Drake has hired Neumann Construction to add approximately 30 student rooms to the basement of Morehouse Hall. Drake's Center for International Programs and Services has moved from Morehouse to The Point, an administrative building at 1331 27th Street. The other floors of Morehouse also are being renovated this summer — a project that was planned long before the enrollment increase.
Several other previously-scheduled renovation projects are also under way.
"We're doing a lot of things more quickly than they've been done before – ever," said Ben Bruns, project manager for Weitz Construction.
Weitz is renovating Stalnaker and Crawford residence halls — two of the four Quadrangle Residence Halls that house only first-year students — this summer. The other two halls – Carpenter and Herriott — will undergo similar work next summer. The halls will be completely modernized while retaining the design and spirit of the original architect — the internationally renowned Eero Saarinen.
"We did our best to replicate or repair every detail of the original design," said Dan Sloan, principal architect for Baldwin White Architects, the architects in charge of the Quads project, Morehouse and Cole Hall.
Sloan said BWA was sensitive to Saarinen's original paint colors, building materials and furnishings. "The halls should look as fresh as when they originally opened. To the untrained eye they will look like completely new buildings."
Renovated features in Crawford and Stalnaker Halls include:
• Air-conditioning

• Double-glazed windows for improved insulation, sound resistance

• Expanded bathrooms and laundry rooms

• Upgraded student rooms, social rooms and common spaces with new furnishings

• The addition of media labs

• Wireless Internet access to every room

• Handicap-accessible elevators

• Sprinkler systems for fire safety

• New interior paint, carpeting, doors

• Fresh brick and mortar on the exterior
Building-specific additions include a new roof for Stalnaker Hall and a new footbridge on the southeast side of Crawford Hall.
Drake is investing more than $10 million in its residence halls through the various projects taking place this summer, according to Vicky Payseur, vice president for business and finance.
Jewett and Goodwin-Kirk residence halls both have been fully renovated. With the completion of the aforementioned renovation projects, Drake will have renovated all of its residence halls by the fall of 2008.