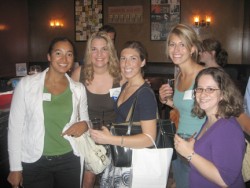 Young alumni who gathered recently in Chicago included Raine Ettridge, BN'05; co-host Carrie Blumenfeld, JO'00; Emily Sexton, JO'07; Amanda Gunther, JO'07; and Jessica Laskey, JO'05.
Approximately 50 alumni and other guests networked and socialized at Mystic Celt Bar and Grill in Chicago at an event especially for younger grads on July 12. Hosted by Jeremy Glenn, BN'94, chair of the Drake Chicago Advisory Board, and board member Carrie Blumenfeld, JO'00, the event invited the under-30 set to celebrate their Drake affiliation in the Windy City.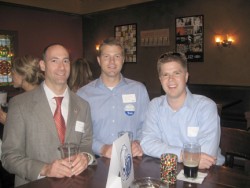 Jake Rubenstein, co-host Jeremy Glenn, BN'94, and David Baker, AS'02, enjoy the Drake camaraderie.
Glenn, Blumenfeld and the Drake Office of Alumni and Parent Programs invite Chicago-area alumni to join a new Young Alumni Committee to help organize future events. If you are interested, contact Emily Weaver, assistant director of alumni and parent programs, at emily.weaver@drake.edu or 515-271-3155.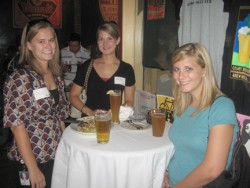 Amy Zsenai, BN'07, Jacque Mueller, JO'07, and Megan Struyk, BN'07.
Networking and socializing also were on the agenda for approximately 50 young alums from central Iowa who gathered Aug. 2 at the Court Avenue Brewing Company in Des Moines. Many of those who attended also went on to cheer the Iowa Cubs that night at Principal Park.