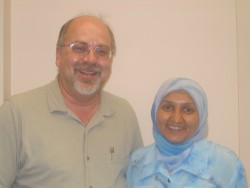 Senior Lecturer Fatima Suleman during her visit to Drake, where Associate Professor of Pharmacy Practice John Rovers served as her guide.
Fatima Suleman would like the students at the University of KwaZulu-Natal (UKZN) in Durban, South Africa to get out of their comfort zone and try studying abroad at Drake University. Suleman visited Drake this summer to learn more about the University.
"The students at KwaZulu-Natal are comfortable where they are. They are rarely out of their comfort zone. They do their degree in one spot, and generally stay there," said Suleman, senior lecturer. "This will give them the opportunity to learn about places they read about and see on TV."
Suleman visited Drake to meet with faculty and staff from the pharmacy, business and arts and sciences schools to explore students from UKZN coming to Drake.
Drake and UKZN formed a partnership in March 2007. Natalie Bainbridge, PH'07, did a four-week rotation with UKZN last spring and had a positive experience.
"Natalie reported back to us that KwaZulu-Natal would be a good place to send students," said John Rovers, associate professor of pharmacy practice, who helped Bainbridge set up the rotation.
Effective spring 2008, undergraduate students from the two universities will be able to study abroad for one semester or academic year. A five-week summer program also will be available for students interested in studying South African history, culture, the Zulu language and culture, and participating in service learning.
In addition, pharmacy students in their fourth professional year will have the option of completing a portion of their clinical training in Durban at three different hospitals. Rovers said he would like to see students spend 12 days at one hospital and move to another for the remaining 12 days.
Two Drake pharmacy students, Anna Pedersen and Liz Jones, are going to UKZN for a rotation in October. Pedersen said she is very interested in HIV/AIDS and this trip will be beneficial for her.
Drake students who do a rotation in Durban have the opportunity to work with diseases that are more common in South Africa than in the United States, such as HIV/AIDS and malaria. Two out of five people in Durban are infected with HIV/AIDS.
"I am extremely interested in HIV/AIDS. I will have exposure to the drugs used, and a chance to enhance my knowledge about the disease. I am hoping to gain clinical exposure in working with patients that are infected and hoping to gain knowledge about the disease," Pedersen said. "I consider myself to be so lucky to get this chance. This is a dream come true."