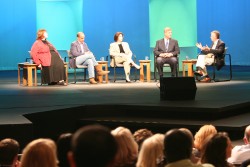 CONTACT: Lisa Lacher, 515-271-3119, lisa.lacher@drake.edu
"Politics and the Press: A Community Conversation," a Drake University-sponsored program filmed earlier this month, airs at 7 p.m. Thursday, June 28, on Iowa Public Television. The discussion features journalists and political experts discussing the role of the media in the presidential nominating process. Members of the Des Moines-area community offer questions, concerns and advice on political coverage.
Tom Rosenstiel, director of the Washington-based Project for Excellence in Journalism, led a discussion among panelists. The panelists were Carolyn Washburn, editor and vice president of The Des Moines Register; former Iowa Gov. Tom Vilsack, who briefly was a candidate for the 2008 Democratic presidential nomination; Matthew Dowd, Republican political strategist; and Ann Selzer, a Des Moines-based pollster.
Drake University, Iowa Public Television, the Des Moines Register, the Poynter Institute and the McCormick Tribune Foundation worked together to convene the panel and host the discussion, which will also be simulcast on IPTV-Plus, one of Iowa Public Television's digital channels, and is available to watch at www.iptv.org.
The program runs as part of Iowa Public Television's "Presidential Politics in Focus" series. Other programs to air on June 28 include:
"All-American Presidential Forums," 8 p.m. Host Tavis Smiley will moderate a discussion among the Democratic presidential candidates live from Howard University in Washington, D.C. Questions to the candidates will be posed by Smiley, and by journalists Michel Martin of National Public Radio, nationally syndicated columnist Ruben Navarrette, Jr. and USA Today and Gannett News Service columnist DeWayne Wickham. The forum will be simulcast on the Web via www.iptv.org. A forum among the Republican presidential candidates will take place on Thursday, September 27.
"Iowa Press Special Edition," 9:30 p.m. Iowa journalists will provide perspective and analysis of the Democratic presidential candidates, and will discuss the candidates' campaigns in Iowa leading up to the caucuses. Support for the program, which will be available online at www.iptv.org, has been provided by the Association of General Contractors and the Iowa Bankers Association.
For more information about these programs, contact Iowa Public Television at 515-242-3146.