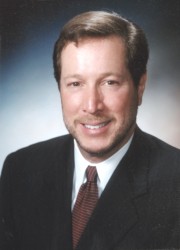 David Maxwell
CONTACT: Lisa Lacher, 515-271-3119, lisa.lacher@drake.edu
Drake University President David Maxwell has joined approximately 300 college presidents and chancellors nationwide in pledging to take concrete steps to make their campuses "climate neutral" as soon as possible to help combat global warming.
President Maxwell is a charter signatory to the American College and University Presidents Climate Commitment on behalf of the University. The commitment calls for participating educational institutions to complete within a year an inventory of all greenhouse gas emissions and to develop within two years a plan to make the necessary reductions to meet climate neutrality goals.
"I am very pleased for Drake that we were invited to be a charter signatory to the Presidents Climate Commitment," said Drake President David Maxwell. "The University's mission statement emphasizes responsible global citizenship, and our participation in this compact is an important way of collectively realizing that responsibility as an institution."
The Presidents Climate Commitment was first organized last December by ecoAmerica, Second Nature and the Association for the Advancement of Sustainability in Higher Education. Last week, 70 presidents and chancellors gathered in Washington, D.C., for a signing ceremony and meetings with members of Congress, where they discussed ways to reduce their campuses' "carbon footprints," along with how to incorporate such efforts into teaching and research.
Drake offers majors and minors in environmental science and environmental policy, which take an interdisciplinary approach. Students are required to take classes in biology, chemistry and policy, and apply their lessons with hands-on learning opportunities. There are currently 50 students in the program, which has grown steadily over the past five years.
"The students in the environmental science and environmental policy programs are truly interested in what they are learning," said Tom Rosburg, associate professor of biology and head of the Drake Prairie Rescue Restoration Program. "Many of them also use green practices in their everyday lives."
Drake has an active paper, cardboard, plastic bottle and glass recycling program, with recycling receptacles located in residence halls. There's also a paper and cardboard recycling program in academic and administrative buildings. The recycling dumpster on campus takes in an average of more than 2.7 tons of recyclables each month. The University also recycles compact fluorescent light bulbs, metals from construction demolition and used appliances, as well as grass clippings using a compost scheme. In addition, Drake donates used furniture from residence halls to charitable organizations.
Instead of demolishing outdated residence halls and constructing new ones, Drake elected to renovate the buildings to minimize the environmental impact of the project and to promote sustainability. Two of the four residence halls in the Quad, designed by internationally renowned architect Eero Saarinen, are being renovated this summer and the other two will be renovated next summer. In addition, Morehouse Residence Hall is being renovated this summer. By the fall of 2008, Drake will have renovated all of its residence halls.
During the renovations, all demolition debris is being sorted and recycled off site. The renovation projects also are utilizing many components, such as brick, windows and curtain walls, manufactured in the Midwest. The renovated residence halls will have operable windows in each room, keeping air fresh and providing maximum savings on heating and cooling during the spring and fall. The windows also provide a large amount of daylight in each living space. In addition, the vast majority of structural and partition walls have been preserved through the design of the renovated space.
Drake's food service participates in the Buy Fresh Buy Local campaign conducted by the Drake Agricultural Law Center. Purchasing food from area farmers and businesses reduces transportation costs and pollution while helping to support local businesses.
Drake also has increased the efficiency of its central plant's heating and cooling system, which runs on an energy management system that reduces energy use when buildings are unoccupied or closed by setting back temperatures and shutting down systems. In 2000, the University standardized thermostat settings in offices and academic buildings to uniform energy-efficient settings. Also in 2000, Drake began utilizing golf carts and small utility vehicles to save on gas consumption and make cross campus travel more efficient.
Combining of boiler plants has reduced the University's heating horsepower consumption by one third. Drake also began replacing water-cooled refrigeration units this year to save on water usage. In addition, the University uses variable frequency drives on its blowers and pumps to drive the fan or pump motor at the minimum speed necessary to accomplish the task.
As part of its energy conservation programs, Drake has used 32-watt "T-8" lamps rather than the traditional 40-watt "T-12" lamps and electronic high efficiency ballasts as well as compact fluorescent bulbs for lighting since 1996. Drake also uses occupancy sensors to automatically turn lights off in unoccupied spaces ranging from classrooms to offices. In addition, all refrigerated vending machines have vending misers, which cycle the refrigeration components off during off-peak periods when the buildings are closed.
For more information about the American College and University Presidents Climate Commitment, visit www.presidentsclimatecommitment.org.