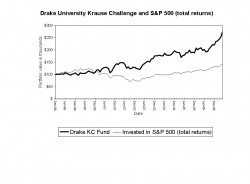 CONTACT: Lisa Lacher, 515-271-3119, lisa.lacher@drake.edu
Kum & Go, one of the nation's leading convenience store chains, has announced that Drake University is the winner of the 2007 Krause Challenge investment competition.
The financial results for the four schools from Sept. 1, 2006, through March 31, 2007, are as follows:
Drake University:

25.53 percent return; portfolio growth from $193,942.43 to $243,455.95.
University of Iowa:

19.74 percent return; portfolio growth from $160,475.47 to 192,154.93.
University of Northern Iowa:

12.83 percent return; portfolio growth from $110,362.66 to $124,524.17.
Iowa State University:

5.85 percent return; portfolio growth from $169,283.02 to $179,185.51.
All four schools helped to significantly increase the Krause Challenge portfolio this year, growing the funds from $630,000 to nearly $740,000, accounting for an overall 17 percent growth rate.
"It is inspiring to see the collegiate spirit and competition between our state schools transcending from the athletic fields to the finance classrooms," said Kyle J. Krause, president and CEO of Kum & Go. "We are honored that the students take such pride in their investments — these students will become great assets to the Iowa workforce."
Drake's growth represents a dramatic increase over last year's performance, when Drake finished in third place with a 9.10 percent return. Plus, this is the second annual competition between Iowa's four Division I programs of higher education in which Drake came out the victor, as earlier this year the men's basketball team swept the state schools in victories.
"The Krause Challenge has given our Finance 190 students the opportunity to invest real money and experience the competitive environment of the financial world," said John Rozycki, associate professor of finance at Drake. "Throughout the semester, our students work to develop a good understanding of how companies create and destroy value. We analyze companies one at a time — inside out and upside down. When we have to decide between two stocks, there is tension and intense debate. By the latter part of the semester, the students know how to make a sound investment decision. You just cannot get these kinds of experiences from a textbook."



Kum & Go Founder and Chairman, W.A. Krause, is amazed by the effect and growth of the company's initial $100,000 donation to each university back in 1998. "When we started the Krause Challenge, we had no idea of the impact it would make on these four excellent universities. The Krause Challenge is now one of, if not the premiere finance class at all participating universities. We are proud of the many students who have excelled through the Krause Challenge."
About Kum & Go L.C.
In 1959 in Hampton, Iowa, company founders W. A. Krause and T.S. Gentle used the first letters of their last names to create a unique moniker to showcase the ease and convenience they instilled in a shopping experience. Thus Kum & Go was born. Since then the convenience store chain has grown to more than 445 stores in 13 states (Iowa, Kansas, Minnesota, Missouri, Montana, Nebraska, North Dakota, Oklahoma, South Dakota, Colorado, Arkansas, Wyoming and Wisconsin).