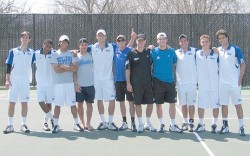 The Bulldogs won 23 of 26 matches in one of their most successful seasons ever.
One of the most memorable campaigns in Drake men's tennis history ended May 11 with a 4-0 loss to No. 21 Michigan in the first round of the NCAA Championships at the Atkins Tennis Center in Urbana, Ill.
The loss snapped a 22-match winning streak for the Bulldogs, ranked 52nd, and wrapped up their remarkable campaign at 23-3. Michigan improved to 20-6.
The duel was far from a mismatch. Drake led a pair of matches in the third set and was ahead in the second set at No. 1 when play was halted after a 7-6 (7-4), 6-3 victory by George Navas against Drake sophomore Ivan Mendoza (Wellington, New Zealand) at No. 6 singles.
"It was a great experience, but the guys leave this match knowing that there is a very small difference between us and a top-20 team," Drake Head Coach Chase Hodges said. "We're right there, and if we straightened a few things here and there, we could have pulled the match out."
In doubles, the Bulldogs couldn't overcome a talented Michigan lineup at Nos. 2 and 3, costing Drake the doubles point.
Attention then turned to singles competition. Momentum seemed to be swinging toward Drake, which struck at the top three slots.
In his first match as a Bulldog, Sergi Vila (Barcelona, Spain) took the initial No. 2 singles set against 50th –ranked Matko Maravic. The Wolverine battled back to square the match, 6-1. Vila led 4-1 in the final frame before the match was abandoned.
Vila finished his illustrious Drake career in second place all-time with 194 combined singles/doubles victories.
No. 21 Michigan def. No. 52 Drake, 4-0

May 11, 2007

Champaign, Ill. 2007 NCAA Men's Tennis Championship

Records: Drake (23-3), Michigan (20-6)
Singles

No. 1 Maor Zirkin (DU) vs. No. 40 Brian Hung (UM), 6-7 (4), 5-4, unfinished

No. 2 Sergi Vila (DU) vs. No. 50 Matko Maravic (UM), 6-3, 1-6, 4-1 unfinished

No. 3 Dalibor Pavic (DU) vs. Andrew Mazlin (UM), 4-6, 6-2, 4-2 unfinished

No. 4 Ryan Heller (UM) def. Guilherme Marsiglia (DU), 6-2, 6-0

No. 5 Mike Sroczynski (UM) def. Bokang Setshogo (DU), 6-3, 6-1

No. 6 George Navas (UM) def. Ivan Mendoza (DU), 7-6 (4), 6-3
Doubles

No. 1 Zirkin/Pavic (DU) vs. No. 10 Hung/Maravic (UM), 5-6, Michigan leading when match called

No. 2 Heller/Mazlin (UM) def. Vila/Mendoza (DU), 8-4

No. 3 Navas/Sroczynski (UM) def. Setshogo/Marsiglia (DU), 8-6