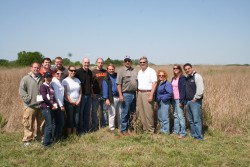 Students explore the Chariton Valley Switchgrass Project with visiting Chinese scholar Yang Xiang, Neil Hamilton, project coordinator Jon Sellers, Tom Vilsack and Judge Kay Hansen, LW'91.
Drake law students tour rural Iowa with Vilsack, Hamilton
A dozen Drake law students recently trekked around southern Iowa via tour bus with former Iowa Gov. Tom Vilsack, Drake visiting distinguished professor of law, and Neil Hamilton, the Dwight D. Opperman distinguished professor of law. The trip was part of a May interim course at Drake University Law School called Rural Lands Rural Livelihoods.
The trip itinerary included several stops intended to highlight ways rural Iowan communities are capitalizing on natural amenities and resources to create sustainable economic growth. The group sojourned at the Honey Creek Resort State Park development on Rathbun Lake, the Chariton Valley Switchgrass Project near Millerton, Tassel Ridge Winery in Leighton and the Front Street Market, a community-owned grocery store in Humeston.
The tour showcased communities that are deviating from the traditional economic development model of chasing factories and instead turning to existing resources to spur economic growth. Vilsack shared background information on many of the other projects and provided insight to the group on the process involved with moving forward on the Honey Creek Project, an initiative to construct a resort complex at Rathbun Lake that was first proposed in the early 1970s.
Second-year law student Jason Yates said the experience helped prepare him to better assist future clients achieve community development goals. "This trip gave us an excellent opportunity to connect the classroom to the real world," he said. "Governor Vilsack stressed to the class that the practice of law is always about real people and not just theories. This trip allowed us to meet the people involved with these projects and hear the real challenges they had to overcome to be successful."
Hamilton and Vilsack collaborated to design the course, which introduces concepts of rural development and related legal issues such as the challenges of rural America, the impact of the 2007 farm bill and the roles of natural resources, traditional rural development programs offered by the USDA and local natural resource agencies such as county conservation boards.