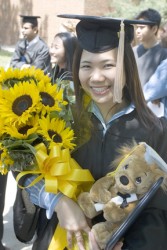 This new graduate is all smiles and sunflowers after earning a Drake degree.
Drake welcomed a total of more than 1,300 students into the ranks of alumni last month during three ceremonies marking the commencement rites of passage.
At the University's 126th Undergraduate Commencement Ceremony on May 12, Drake President David Maxwell told the graduates that he wants them to think about events, people and forces that are shaping our world — and shaping our future. "And more than that," he said, "I want you to think about what you're going to do about them." Dr. Maxwell's commencement address is posted online.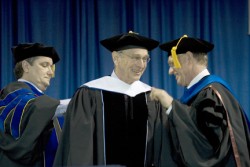 James Autry receives an honorary Doctor of Humane Letters degree.
Following President Maxwell's address, Drake leaders presented an honorary Doctor of Humane Letters degree to renowned author and retired Meredith Corp. executive James Autry. He is regarded as one of the most successful and respected magazine publishing executives in the nation. He is also an award-winning author whose collection of essays and poetry, "Love and Profit: The Art of Caring Leadership," won the prestigious Johnson Smith and Knisley Award in 1992 and has been published in a multitude of languages.
"Let me just share a few thoughts about life and about the quest for professional success, however we define that," Autry told the 650 graduates and their families and friends. "It strikes me that a few things get lost in this great quest. In our obsession with what's next, we often fail to focus on what's now. If I've learned anything, it is that everything counts — everything. Every experience, every activity, every relationship, even the things you don't think count, count. There are lessons in them all. The great challenge is to pay attention and to realize that what you're doing right now is the most important thing you can be doing."
Autry also talked about the University's vital role in the Des Moines community and his experiences on campus as an instructor, lecturer and committee member. "I've had many positive experiences with Drake, but this, this honorary degree is something else altogether — completely unexpected," he said. "And I affirm to all of you here, it is truly one of the great honors of my life — a treasure, a blessing. And I will be forever grateful. Thank you."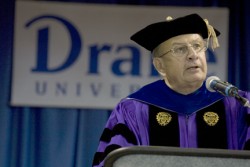 Herb Strentz delivers the commencement address for graduate and doctoral degree recipients.
Approximately 560 graduate students were honored at Drake's 126th Commencement Ceremony for Graduate and Doctoral Degree Recipients May 12. Herb Strentz, Drake professor emeritus of journalism and mass communication, delivered the commencement address.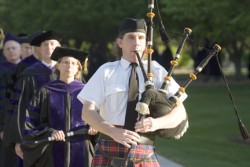 The Law School commencement ceremony was preceded by a bagpipe player leading a formal procession of law students and faculty wearing academic regalia.
The Drake Law School presented Juris Doctor degrees to 160 graduates at the Law School Commencement Ceremony Friday, May 11. Iowa Supreme Court Chief Justice Marsha K. Ternus, LW'77, gave the commencement address, which was titled "A Life That's Full."