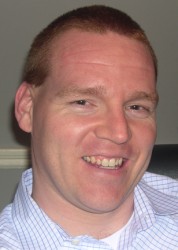 Todd A. Lee, PH'97
Todd A. Lee, a 1997 graduate of Drake's College of Pharmacy and Health Sciences, has been named the 2007 recipient of the Bernie J. O'Brien New Investigator Award from the International Society for Pharmacoeconomics and Outcomes Research (ISPOR).
Lee, a native of Arcadia, Iowa, received the award May 22 at the ISPOR Annual Meeting in Arlington, Va. In addition to a plaque and complimentary meeting registration, he received a $5,000 research grant and up to $1,500 in travel expenses. Lee will use the research grant to continue work on studying medication use and outcomes of patients with chronic obstructive pulmonary disease (COPD) using the Medicare system.
Lee is senior investigator in the Center for the Management of Complex Chronic Care at the Edward Hines Jr. VA Hospital, which is located in Hines, Ill., and is one of 15 VA Centers of Excellence for health services research. He is also a research assistant professor in the Institute for Healthcare Studies and the Division of General Internal Medicine in the Northwestern University Feinberg School of Medicine.
"My Drake education has been an instrumental part of my success, with a particularly important aspect being the mentorship I received while a student at Drake," Lee said. "While I am no longer a practicing pharmacist, I continue to use my pharmacy training in the research that I do on a daily basis."
Lee's research focuses on patient outcomes related to the use of medications with interest in both safety-related issues and costs associated with medication use. He has conducted both observational and interventional projects across a variety of areas including COPD, asthma, diabetes, cancer and mental illness with particular interest in understanding the impact of the co-occurrence of multiple chronic conditions. After Lee earned his Doctor in Pharmacy from Drake University, he earned a Ph.D. from the Pharmaceutical Outcomes Research and Policy Program at the University of Washington.
The ISPOR is an international nonprofit organization that promotes the science of pharmacoeconomics and health outcomes research. In 2004, ISPOR established the ISPOR Bernie J. O'Brien New Investigator Award to honor O'Brien's commitment to training and mentoring new scientists. The award is given annually to the best nominee showing exceptional promise of technical and scholarly work in the fields of pharmacoeconomics and outcomes research.