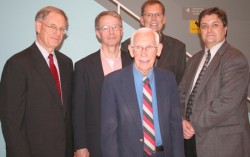 From left: Provost Ron Troyer, Dean Hoganson, Rodney Rogers, Jon Torgerson and Dean John Burney gather at the retirement reception.
Three long-time faculty members retire after distinguished careers
Drake's College of Arts and Sciences recently celebrated the retirement of three long-time faculty members — Dean Hoganson and Rodney Rogers, both Drake graduates and professors of biology, and Jon Torgerson, professor of philosophy and religion. Each worked at Drake for more than 30 years and was highly respected by students and colleagues.
Hoganson, GR'70, joined the Drake faculty in 1974 and become a full professor of biology 10 years later. He was a knowledgeable teacher, reliable committee chair and director and successful recruiter of prospective students and student-athletes interested in the arts and sciences. He also was extremely dedicated to mentorship and research collaborations with students.
"Walk into his office or laboratory any time, when he is not in class, and you will find him available and willing to share his thoughts, or advice, or just to listen," said Richard Wacha, professor and chair of biology. "Much of this success is due to Dr. Hoganson's extensive service as chair of the Pre-Medical Advisory Committee, which each year prepares letters of recommendation for nearly all Drake students who are applying to medical or professional health schools."
Rogers, LA'49, GR'51, has spent more than 60 years on Drake's campus, beginning with his years as an undergraduate student at the University and continuing with a distinguished career as administrator, researcher, adviser and teacher. He chaired the biology department for about 25 years, helped plan the funding and construction of Olin Hall, obtained funding for a successful master's degree summer program for high school biology teachers and received several of the University's top teaching awards.
"Professor Rogers served as a role model for other faculty with respect to his dedication to serve students as an instructor in the classroom, in his office as an adviser and in the hallways as a friend," said Michael Myszewski, professor emeritus of biology.
Torgerson, who came to Drake in 1970, was noted for his dedicated teaching, valued friendship and contributions to the University. He was active in the Arts and Sciences Council and Faculty Senate and served as president of the American Association of University Professors. He also co-wrote the National Endowment for the Humanities grant proposal to fund what became the Humanities Center, which he directed from 1993-96.
In May 1996, Torgerson organized an interim course in which 27 Drake students were among the first undergraduates from the United States to visit Cuba after the U.S. travel ban was relaxed. Torgerson took advantage of the change in regulations to organize the course, which was titled Pursuing Social Justice: The View From Cuba. Torgerson also brought an exhibition of works by Cuban artists to the Anderson Gallery last January.
At the retirement reception, University officials announced the creation of a Jon N. Torgerson Endowed Scholarship Fund in honor of Torgerson's contributions to Drake and the indelible impact he made on the campus during his tenure as professor of philosophy and religion.