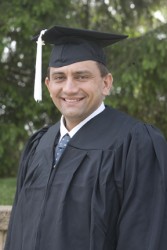 Amir Busnov at the Undergraduate Commencement Ceremony where he received a bachelor's degree in international relations.
Not only is Amir Busnov the first member of his family to graduate from college, he's also the first Drake graduate to be admitted to both the prestigious Fletcher School at Tufts University and Johns Hopkins University for graduate studies in international relations. Johns Hopkins and Tufts are ranked among the top four master's programs in the country by Foreign Policy magazine.
Busnov, 34, plans to attend the Fletcher School and pursue a job with the United Nations. Eventually, he hopes to earn a doctorate, write a book and conclude his career by teaching college students.
Busnov, who grew up on a farm in a small mountain village near Sarajevo in the former Yugoslavia, came to the United States as a refugee in 2000, following his parents and brother who had arrived in 1999. The family had been forced to flee their farm, which was burned to the ground during fighting that engulfed the area as Serbs attacked Muslims.
"They came in one night and started killing and shooting people," Busnov recalled. "My parents were able to escape, but they could only take what they could carry in two hands. My mother took food and the carpet she made by hand when I was born. I still have it."
A month after arriving in the United States, Busnov joined the National Guard because he wanted to serve the country that had taken in his family as refugees. He spent the next 18 months in Kosovo as part of the NATO peacekeeping forces.
He hopes his career will include more peacekeeping missions. "I've seen peacekeeping missions from three different perspectives — as a refuge, as a police officer/interpreter and as a peacekeeper myself," he said. "I want to use the experience that I have, plus the knowledge I've gained, to promote peace. If you try hard, you can make a difference. I guess you have to be an idealist to go into international relations."
Upon returning to Iowa, Busnov began taking classes at Des Moines Area Community College, and then transferred to Drake, where he competed in the Model United Nations and Model European Union. He also worked as an intern in Washington, D.C., for the ambassador of Bosnia and Herzegovina to the United States. In addition, he won Drake's Ellsworth P. Woods Prize, which goes to outstanding seniors majoring in international relations.
In addition to his studies, Busnov worked full time in security at Prairie Meadows Race Track and Casino while his wife, Elvedina, worked at the checkout counter at Dahl's to support themselves and their children – Admir, 12, and Amina, 10.
Busnov impressed his professors with his work ethic, knowledge and experience.
"Amir is one of the most interesting students I have ever had in class," said Debra DeLaet, professor of politics and international relations. "The sophistication and breadth of his understanding of international politics far surpasses that of the great majority of undergraduate students. He knows the nuances of European history. He knows technical and logistical details about military operations and about peacekeeping that other students (and sometimes even I) do not know.
"To his credit," DeLaet added, "he managed to bring this information into the classroom in a way that is always modest and respectful. While he used his life experience to enhance the education of other students, he was very open-minded and receptive to learning from the other students as well. As a progressive Muslim, he contributed in invaluable ways to classroom discussions that touched on issues of religion and cultural identity."
Busnov is equally complimentary of Drake faculty. "The professors, they aren't appreciated enough," he said. "I met a bunch of interns in D.C., and I wasn't an inch behind the students who went to Johns Hopkins or Georgetown or George Washington."