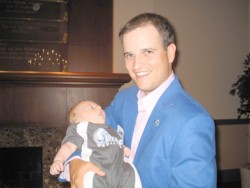 Zach Johnson holds A.J. Bohlender, son of Drake Golf Coach Scott and Meghan Bohlender. A.J. was born on the Saturday of the Masters, so naturally he is a big Zach Johnson fan.
Drake celebrates Zach Johnson's homecoming
Still walking on clouds after winning the Masters and the AT&T Classic, Zach Johnson returned to his alma mater for a reception and news conference following a celebration at the State Capitol where Gov. Chet Culver, GR'94, proclaimed May 24 "Zach Johnson Day" in Iowa.
Johnson, BN'98, was greeted by cheers and applause as he entered the reception in Levitt Hall and said, "It's the Iowa support and Drake support that keeps me going. I loved my four years here at Drake."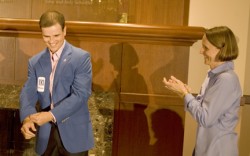 Athletic Director Sandy Hatfield Clubb watches Zach Johnson don his blue jacket.
Drake President David Maxwell noted that Johnson wore Drake blue while competing in the Masters, but then covered up his blue shirt when presented with the coveted green jacket. "We have a replacement jacket for you," Maxwell said as Drake Athletic Director Sandy Hatfield Clubb handed Johnson a blue jacket sporting the Drake logo.
Johnson donned the jacket, then turned to his wife, Kim, and said, "We've got one more jacket, honey. This is awesome."
President Maxwell also presented Johnson with a proclamation that said, in part, "Whereas, throughout Zach's increasingly successful career, his faith, steady Midwestern work ethic, and well-grounded personality have not changed as his fame has grown; the Drake University community publicly proclaims its pride, gratitude and joy in recognizing and celebrating Zach Johnson's achievements, values and character."
In addition to the proclamation, President Maxwell gave Johnson the framed original artwork from Brian Duffy's editorial cartoon about the Masters that appeared in the Des Moines Register. The cartoon shows a putting green labeled "Field of Dreams."
At the news conference, Johnson was asked about his Drake days. "I am beyond proud to be a Drake bulldog," he said. "Drake's all about the people. It's the friendships that I had here that are still going…I have a lot of good memories of times that were very special to me – on the golf course, in the Knapp Center and Bell Center, not so much in class. I wish my four years had been extended a little longer."
Johnson also was asked whether his four-month-old son, Will, will commit to the Iowa Hawkeyes or the Drake Bulldogs. Johnson chuckled and noted that both his parents are graduates of the University of Iowa, then added, "My son is a Bulldog first and a Hawkeye second."
Clubb took that as a cue to present Johnson with a letter-of-intent for Will. Someone asked whether there was a pen for Johnson, who said, with a bit of incredulity, "You're being serious."
"This is awesome," Johnson added as he signed the letter. "This is the youngest commitment in recruiting history."
Click here to view more photos from Zach's visit.