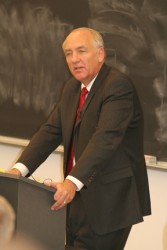 Stephen Rapp, LW'74
In a lecture at Drake Law School this April, 1974 Drake Law School graduate Stephen Rapp said that the United Nations Special Court for Sierra Leone is a response to weaknesses of the tribunals in Rwanda and Yugoslavia, on which he also served.
Rapp is The Prosecutor of the United Nations Special Court for Sierra Leone (SCSL). He is leading the case against former Liberian President Charles Taylor, whose trial will be held at The Hague in the Netherlands because leaders in Sierra Leone feared that a local trial would incite more violence.
Despite Rapp's major successes with the U.N. tribunals — he's most famous for the prosecution of two media executives who helped to incite Rwanda's extremist militia and broadcast the whereabouts of Tutsi sympathizers — he said that the tribunals were inefficient. He argued that they were too expensive, included too many judges, tried too many cases and were slowed down by bureaucracy.
Apart from personnel, the Special Court for Sierra Leone relies for operational support upon voluntary contributions, which allows the court to spend its money freely and sidestep the sometimes lengthy process of requesting materials from the U.N. The court has also chosen to prosecute fewer, more powerful offenders rather than a high number of lower-level offenders.
The conviction of top war criminals is a deterrent to other criminals, Rapp explained. "The signal needs to be sent clear and true that these [crimes] will not be tolerated," he said. "No person is above the law. The Taylor case will create a certainty that everyone will face justice."
And yet, Rapp worries that the Special Court may not have adequate time and resources to finish its project. "The trial for [former Yugoslav President Slobodan] Milosevic lasted four years — we may have as little as 18 months," Rapp said. Other indicted criminals have yet to be located and arrested.
Just as with the tribunals in Rwanda and Yugoslavia, the SCSL will go out of business when the trials are through. Rapp said he wishes that there was a permanent international court for the trial of war criminals.