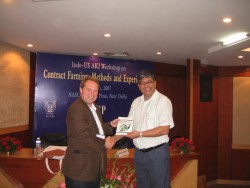 Neil Hamilton shakes hands with P.K. Joshi, director of India's National Center for Agricultural Economics and Policy Research.
Professor Neil Hamilton, the Opperman chair and director of the Agricultural Law Center, spent five days in India in early May as part of a U.S. delegation taking part in a bilateral Indo-U.S. Workshop on Contract Farming: Methods and Experiences.
The workshop was part of the India-U.S. Agricultural Knowledge Initiative, a joint program of the Indian Ministry of Agriculture through the Indian Center for Agricultural Research and the U.S. Department of Agriculture.
Hamilton made two presentations, the first on understanding the legal fundamentals of production contracting and another on the U.S. experience with contract regulation. Hamilton wrote a book in the mid-1990s on "The Farmer's Legal Guide to Production Contracts" and served as a consultant with the USDA on a publication titled "Contracting in Agriculture: Making the Right Decision."
The issue of production contracts is of growing significance in India as the nation considers methods to increase food production and utilize modern marketing practices. Indian officials and companies see contracting as a method of delivering information and technology to farmers and to supplement existing marketing systems.
More than 15 Indian speakers — ranging from farmers, to government officials and food company executives — spoke at the workshop, which was held at the facilities of the National Academy of Agricultural Sciences at Pusa near New Delhi.
Following the workshop, the U.S. delegation had the opportunity to take a field trip into the farming area north of Delhi in Haryana to meet with a collection of farmers raising basmati rice under contract for export to Europe. They also visited rice processing plant and one of the first production facilities in India producing ready-to-eat meals.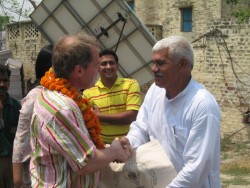 In the village of Kaithal, Neil Hamilton meets rice farmers who present him with a garland of colorful flowers.
Hamilton and four American colleagues' participation was coordinated by the USDA Economic Research Service. The workshop was also co-sponsored by Asia office of the International Food Policy Research Institute, which will publish the papers from the conference.
On his way to India, Hamilton stopped in Rome, Italy, to meet with professor Domenico Viti from the University of Foggia to discuss his fall 2007 visit to Drake as the next Lorvellec visiting international scholar. Viti will be one of more than a dozen foreign scholars coming to Drake Oct. 15-16 for an international workshop on The Role of Law in Promoting Sustainable Agriculture and Rural Development.
While in Rome, Hamilton also met with Cary Fowler, the executive direct of the Global Crop Trust Fund at the Food and Agricultural Organization, to discuss issues relating to funding private seed-saving efforts around the world.