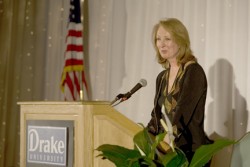 Bonnie Campbell, LA'82, LW'84
Bonnie Campbell, LA'82, LW'84, and Wayne Kern, LW'72, were named Alumni of the Year at this spring's Supreme Court Celebration.
Each year, the Law School honors alumni who exemplify outstanding character, exceptional achievement and distinguished service to Drake, the legal profession and the community.
"Just as our mission at Drake Law School is devoted to preparing leaders, promoting justice and responding to the call of public service, the annual alumni recognition is designed to identify someone whose career has been outstanding, in law or other context, for which legal education at Drake helped to prepare him or her," said Dean David Walker.
Campbell, a native of South Plymouth, N.Y., is the only woman to have held the position of attorney general of Iowa, which she served from 1990-94. She then joined the Clinton administration as one of its key officials on crime and gender-equity issues.
Appointed head of the Justice Department's newly created Violence Against Women Office in 1995, Campbell emerged as a national leader for her work to bring victim-rights reform to the country's criminal justice system.
Time magazine named her one of the 25 most influential people in America in 1997. She now works in private practice, was co-chair of the successful Culver-Judge Election Campaign in Iowa, is an advisor to the governor and in many ways is vitally and prominently engaged in public service.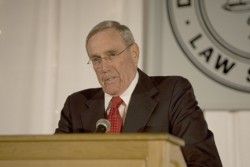 Wayne Kern, LW'72
Kern, of Dallas, Texas, attended Drake Law School as a non-traditional student after a career as high school teacher and banker in Macomb, Ill. He went on to an outstanding career in business and law, the majority of it in the cable television and communications area.
He has long been involved with the Law School, including team-teaching a mergers and acquisitions course. He and his wife, Donna, were key contributors to Opperman Hall in the Campaign for Drake in the early 1990s, have endowed a scholarship and most recently contributed generously to establish the Kern Family chair in intellectual property law.