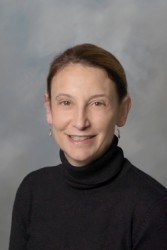 Cathy Lesser Mansfield
Cathy Lesser Mansfield, Drake professor of law, has been accepted as one of 20 law professors nationwide to participate in the 2007 Silberman Seminar, which is funded and conducted by the Center for Advanced Holocaust Studies at the United States Holocaust Memorial Museum in Washington, D.C.
The seminar will take place June 4-15 and will examine the impact and legacy of the Holocaust on the law. It is designed for law school faculty endeavoring to strengthen their knowledge of the ways in which the Holocaust has affected the development of domestic and international law.
Mansfield is the composer of an opera that takes place during the Holocaust titled "The Sparks Fly Upward", which will premiere in Des Moines in 2008. She is currently developing a course for the law school relating to law and the Holocaust.
"I feel very honored and privileged to have been selected," Mansfield said. "I know from conducting research at the museum for the opera that it is filled with dedicated and invigorated Holocaust scholars from whom I will learn many things."