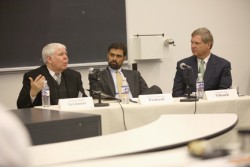 Speakers at this spring's constitutional law symposium included (from left): Sandy Levinson of the University of Texas Law School, Saikrinda Prakash of the University of San Diego Law School and former Iowa Gov. Tom Vilsack.
The U.S. Constitution is often treated as if it is a nearly sacred and flawless document. But on April 7, the Drake Constitutional Law Center held a symposium on the topic of whether the U.S. Constitution actually hinders democracy.
Speakers included former Iowa Gov. Tom Vilsack and several prominent constitutional scholars from all parts of the country. More than 140 people attended the daylong symposium.
The topic was inspired by a recent book published by one of the attending scholars, professor Sandford Levinson of the University of Texas Law School. His book, which has received national attention, is titled "Our Undemocratic Constitution: Where the Constitution Goes Wrong (and How We the People Can Correct It)."
Levinson has argued that the U.S. Constitution is in need of amendment. The Electoral College permits a president to be selected without a majority of the popular vote. Small states like North Dakota have the same number of U.S. Senators as huge states like California.
The public cannot elect a president beyond two terms. The president can veto legislation with huge support in Congress. All of these facts stand in the way of a more democratic system and alienate voters. Levinson proposed that a constitutional convention be supported in which the attendees would be selected by random lottery.
Vilsack noted that the U.S. Constitution does not address all the succession problems that can occur if a president dies or if there is a terrorist attack that hits many government officials. He described this as an issue needing to be addressed to ensure our democracy is strong.
He added that some states, such as Texas, have redistricting processes that are politicized in a troubling manner. He noted, however, that Iowa could serve as a national model for how redistricting can be accomplished and politics minimized.  He also praised Iowa's caucus process as a model for engaging and informing the electorate.
Professor Saikrinda Prakash of the University of San Diego Law School agreed that some parts of the U.S. Constitution could use revision. He noted, however, that the powerful role of the small states was part of the Great Compromise that allowed adoption of a Constitution. He also said that the U.S. Supreme Court's power of judicial review is highly undemocratic and should receive more critical attention.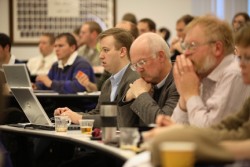 Professor Heather Gerken of Yale Law School argued that the U.S. Constitution does evolve and change over time through an organic informal process, such as U.S. Supreme Court decisions, and changing public viewpoints. She expressed concern that a more formal constitutional convention could reduce this organic process and make things actually harder to change.
Professor Ilya Somin of George Mason Law School elaborated that a constitutional convention could result in unintended consequences since there is lots of evidence that voters are not as well informed about issues as might be ideal. He said that the political parties could try to hijack the convention. He acknowledged, however, that our system does not provide great incentives for citizens to vote.
Professor Donald Horowitz of Duke Law School argued that Levinson's thesis was problematic to the extent that it might reduce the powers of the states. He said state power, known as federalism, has been the focus of many who design constitutions in foreign countries because geographic divisions can help bring about peace and stability for a variety of reasons.
Professor Mark Kende, director of the Drake Constitutional Law Center, moderated the symposium. He noted afterwards that, "The discussion was quite illuminating, especially in a state like Iowa, which plays such an important role in the presidential selection process that is so key to our democracy."
Follow the links to download the video and podcast of the event.
Congress enacted legislation authorizing and providing partial funding for the Constitutional Law Center to commemorate the bicentennial of the Constitution in 1987. Drake Law School is one of only four law schools designated by statute to receive a permanent endowment "to encourage graduate study of the American Constitution, its roots, its formation, its principles and its development."
Support for the symposium came from Belin, Lamson, McCormick, Zumbach, Flynn, PC.