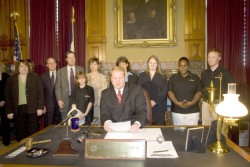 Drake leaders and other supporters of the legislation watch Gov. Chet Culver prepare to sign the bill.
Iowa Gov. Chet Culver recently signed legislation drafted and championed by Drake University law students that mandates visitation rights for siblings split up through the foster care and adoptive placement process in Iowa.
The bill (Senate File 480) provides for situations in which a juvenile court termination order or other order prevents blood siblings from having contact with one another. The bill allows the court to consider whether such visitation is appropriate and then make an order.
Before signing the bill, Gov. Culver praised Drake University President David Maxwell; David Walker, dean of the Drake University Law School; Suzanne Levitt, a Drake law professor and director of the Drake Legal Clinic; and Drake law students who worked tirelessly to get the legislation passed.
"Kids who are placed in homes separate from their blood siblings will have the chance to continue contact through visits with those siblings," Gov. Culver said. "For many of these children it is the only family bond they will maintain."
Foster children separated from their siblings also spoke at today's bill signing, thanking the governor and lawmakers for passing this important bill, which will take effect July 1. Kayla Pettit, 17, said she hadn't seen her 13-year-old brother, Marcus, in eight years. "This bill will help families, particularly brothers and sisters, stay in touch," she said. "It's so hard when you can't see each other."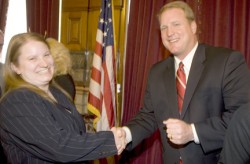 Gov. Chet Culver shakes hands with law student Tracie Gibler following the bill signing.
Tracie Gibler, a third-year law student from Des Moines who helped draft the bill and lobby for it, also spoke at the bill signing. She addressed her comments to the foster teens, saying, "It's been an honor to work on your behalf."
The legislation stems from a survey of more than 100 foster children in the Des Moines area about what laws need to be changed to better protect them. The survey, conducted by law students enrolled in the clinical component of the Middleton Center for Children's Rights under the direction of Director Jerry Foxhoven, found that sibling visitation was the youths' top priority. Drake law students in the Legislative Practice Program drafted the bill and lobbied for it along with members of Elevate, a group of teens either currently or previously part of Iowa's child-welfare system. United Way of Central Iowa provides support for the Middleton Center for Children's Rights and its advocacy efforts.
Joan Middleton, who founded the Middleton Center with her husband, Lyle, joined in celebrating the new legislation at the signing ceremony. "It's exciting to me that these young people are learning about the political system and how things can be accomplished," she said. "It's incredible."