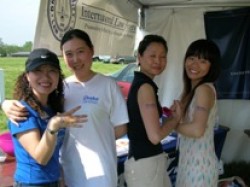 Drake Law School left a visible impact on the estimated 30,000 festival-goers who attended CelebrAsian, the fifth annual Asian Heritage Festival that recently took place in Des Moines.
Circulating the festival were supporters of the law school displaying temporary tattoos, balloons and stickers bearing the Drake logo as well as prospective law students loaded with admission information, courtesy of law faculty and students who manned a Drake informational booth at the festival.
Professor Ellen Yee organized an educational trivia game that featured questions about both Drake Law School and ways that law has impacted the Asian population, such as the Chinese Exclusion Act and Korematsu v. the United States, in which the Supreme Court held that the U.S. Constitution allowed the government to intern Japanese-Americans on national security grounds.
Notable visitors to the booth included Iowa Gov. Chet Culver, former Iowa Gov. Bob Ray and Judge Celeste Bremer.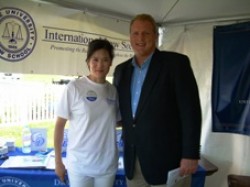 Professor Ellen Yee and Iowa Gov. Chet Culver
"It was a fantastic day," Yee said. "We were able to reconnect with alumni who stopped by, introduce our programs to interested potential students, educate both children and adults about the law school and issues that are important to the Asian community, and demonstrate to Iowans what a strong, creative and thriving Asian community lives here."
Yee and law students affiliated with the Asian Pacific American Law Students Association (APALSA) and the International Law Society ran the Drake portion of the booth, which was made possible through financial support from the Des Moines office of the law firm Faegre & Benson LLP.
"We were all delighted to help celebrate the importance of Iowa's Asian population in our community and our culture," said Nathan Swanson, a second-year law student and president of the International Law Society at Drake. "The enthusiasm of the Drake volunteers to interact with the local community strongly reflects Drake Law School's commitment to making a difference in the community and to training leaders who invest themselves in the people they serve."
Monica Nguyen, a third-year law student and former president of APALSA, said that Drake's presence at the festival demonstrates Drake's strong support of and commitment to diversity. She added that she hopes the event was helpful in recruiting prospective students of diverse backgrounds.
"As future lawyers, it's important to demonstrate our commitment to public service," she said. "This was a great way to give back to the community in a fun way."