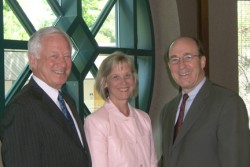 Robert, LW'62, and Nancy Landess and Dean David Walker
Robert, LW'62, and Nancy Landess have announced a substantial planned gift to the Drake Law School that will provide funding for the Landess Endowed Faculty Research Fund.
The gift is meant to provide an annual stipend to a faculty member who wishes to pursue scholarly research or a summer internship in lieu of teaching. The research or internship is intended to lead to publication of an article by the chosen faculty member within one year of receiving the stipend.
Robert Landess is an attorney at the Des Moines law firm of Hopkins and Huebner and specializes in law relating to workers' compensation and insurance.
From 1967-71, Landess served as Iowa's deputy secretary of state. He was industrial commissioner of Iowa from 1971-87. As a student at Drake Law School, he was assistant editor of the Drake Law Review.
"It was my education at Drake Law School that allowed me to acquire the means to be able to make this gift," Landess said. "We hope the creation of this endowed faculty research fund will assist in some small way in the enhancement of faculty knowledge and continued excellence of the law school."
Dean David Walker expressed the Law School's gratitude to Bob and Nancy.
"This gift will provide deeply appreciated support for faculty in their teaching and in their scholarship," he said, "and through publication, it will contribute to the development and understanding of law, especially in areas of social insurance and worker's compensation, areas of Bob's expertise."