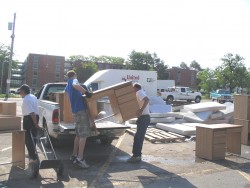 CONTACT: Lisa Lacher, 515-271-3119, lisa.lacher@drake.edu
Approximately 25 trucks converged at Drake University this week to load up used furniture from residence halls for a variety of nonprofit organizations across Iowa.
The University offered more than 350 sets of furniture (bed, desk, chair and dresser) to charitable groups and government agencies throughout the state. Most of the items came from Stalnaker and Crawford Residence Halls, which will be renovated this summer and outfitted with new furniture selected by students.
Organizations from Cedar Rapids, Mount Pleasant, Marshalltown and Sioux City were among those that responded to Drake's offer, said Mark Hines, a maintenance supervisor who coordinated the project for the University. "I can't believe what a great turnout we've had," he added.
Becky Faircloth, a board member at the House of Compassion in Marshalltown, took a short break from loading bed frames on to a truck to say that the furniture will be a boon to low-income families that have stayed at the homeless shelter and need furnishings when they find other housing. "The furniture will help out a lot of families," she added. "This is awesome that Drake is doing this. It's a wonderful outreach effort."
Betty Pratt and Teri Soole of the Iowa Department of Human Services borrowed a truck to pick up beds and desks for the Woodbury County Department of Human Services in Sioux City. "This furniture will be great for some of our foster children," Soole said.
Drake plans to offer a similar furniture giveaway next May when renovation work is scheduled to begin on Carpenter and Herriott Residence Halls.