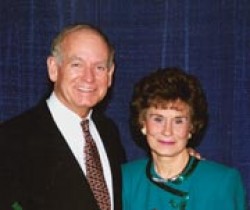 CONTACT: Lisa Lacher, 515-271-3119, lisa.lacher@drake.edu
Drake University's RaySociety, which promotes lifelong learning for people of retirement age, will hold a year-end celebration on Wednesday, May 30, for all members and prospective members.
The free celebration will begin at 3 p.m. with the annual meeting in Sheslow Auditorium in Old Main, 2507 University Ave. Leaders will review the accomplishments of the last year, honor those who taught courses during the year and discuss classes and activities planned for 2007-08. A reception will follow at 4 p.m. in Levitt Hall, Old Main.
Although RaySociety classes will not resume until next fall, several social events for members are planned for the summer. Tours of the Fort Des Moines Museum led by Caesar Smith, manager of the museum, will begin at 10 a.m. June 19, 20 and 21. Retired Des Moines teacher Jerald LaBlanc will conduct tours of the historic Woodland Cemetery at 10 a.m. July 10, 11 and 12.
An annual membership in the RaySociety is $50 for the year beginning June 1 through May 31, 2008. Each class costs $25, with the exception of the current class on World War II, which is open to veterans and their guests free of charge.
The remaining sessions of World War II: Iowans in the Greatest Generation Speak will meet from 2 to 4 p.m. May 17 and 24 in room 206 of Cline Hall, 2802 Forest Ave., and from 2 to 4 p.m. May 31 in Sheslow Auditorium in Old Main, 2507 University Ave.
The May 17 class will focus on the role of women in World War II. The topic for May 24 will be the aftermath of the war. On May 31, a big band will perform music of the era and there will be a sing-a-long.
To register for the WWII class or summer social events, contact Rena Wilson at 515-271-2120 or rena.wilson@drake.edu. For more information about the RaySociety and upcoming classes and social events, visit www.drake.edu/raysociety.
The RaySociety, which has grown to 400 members over the past year, takes its name from a pair of distinguished Drake alumni: former Iowa Gov. Robert D. Ray, who also served as the University's president, and Billie Ray, former first lady of Iowa and a former schoolteacher.