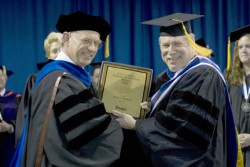 Stuart Klugman and Provost Ron Troyer pose with the plaque commemorating Klugman's award of Madelyn M. Levitt Teacher of the Year.
CONTACT: Lisa Lacher, 515-271-3119, lisa.lacher@drake.edu
Drake University has awarded its highest teaching award to Stuart Klugman, the Principal Financial Group distinguished professor of actuarial science.
The Madelyn M. Levitt Teacher of the Year Award is awarded annually in recognition of outstanding teaching, service and scholarship. Klugman received the award at Drake's 126th Undergraduate Commencement Ceremony on Saturday, May 12.
Students and co-workers nominated Klugman for the award based on his support of students in and out of the classroom, dedication to improving Drake's actuarial science program and exceptional knowledge in the field of actuarial science.
A faculty nominating committee from the College of Business and Public Administration wrote that, "While Drake has a number of outstanding, committed faculty, few can match the dedication and breadth of abilities that Stuart exemplifies."
Co-workers praised Klugman for tackling many diverse responsibilities. "Stuart Klugman has always been willing to teach what is needed instead of what he likes," said Rahul Parsa, professor of actuarial science. "In addition, he has chaired the department for almost 15 years and chaired numerous committees at the college and university level."
Whatever the subject, students say that Klugman is a demanding teacher who promotes a critical understanding of course material.
"Professor Klugman challenges students to be involved with their learning and will not let them passively accept everything presented in class," wrote Leslie Jarvi, Katherine Warner, Elizabeth Jobe and Ryan Berends, four student co-nominees. "He waits patiently for a response to questions he asks in class and follows them up with probing questions to find the reasoning behind our answers. He has helped us develop skills that we didn't think we possessed."
Klugman's commitment to students' success extends beyond the time constraints of the classroom. He is faculty adviser for the Drake Actuarial Student Society (DASS), a formal advisor to 60 students every semester and an informal adviser to all actuarial science majors. Klugman consistently attends all-night study sessions sponsored by the DASS to answer students' questions about upcoming exam topics.
Even when students graduate, Klugman still does his best to keep in touch. In fact, he maintains an alumni database just for that purpose.
"Klugman has one of the most extensive alumni networks of any actuarial science faculty member in the country," wrote Lisa Gardener, associate professor of statistics. "His contacts benefit current students in a wide variety of ways, including through mentoring, internship and job opportunities."
Klugman has published numerous journal articles and written several scholarly books in the field of actuarial science. His book, "Loss Models," is considered the authoritative source on that topic. He received his undergraduate degree from Drake University in 1970 and a Ph.D. from the University of Minnesota in 1975. He began teaching at Drake in 1988 and was awarded Drake's College of Business and Public Administration Undergraduate Teacher of the Year Award in 1997 and 2006. In addition, he was named the Drake University International Students Teacher of the Year in 1999 and 2005.
"Klugman is very active and well-respected nationally within the actuarial profession," wrote Terri Vaughan, the Robb B. Kelley distinguished professor of insurance and actuarial science. "Somehow, he manages to fulfill his responsibilities while keeping up with research, service to Drake, service to his profession and church and his consulting opportunities. It's an impressive record. I can think of no one more deserving of this award."