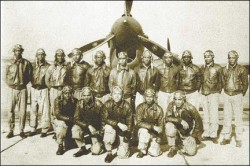 The 1945 graduating class of the Tuskegee Airmen, which includes James Bowman, ED'47, GR'49, '75.
Drake grad receives long-overdue Congressional Gold Medal
More than 60 years after his service as a Tuskegee Airman, James Bowman, ED'47, GR'49, '75, finally received a long-overdue token of thanks recently.
Bowman, 84, of Des Moines, was one of nearly 400 black World War II pilots to receive a Congressional Gold Medal, the highest civilian honor bestowed by the federal legislative branch. He joined nearly 200 of his fellow servicemen in Washington in late March for a presentation of the medals in the U.S. Capitol Rotunda. Among those paying tribute was President George W. Bush along with several congressional leaders and a standing-room-only crowd of friends, relatives and onlookers.
"I applaud Iowa's own Jim Bowman and his fellow Tuskegee Airmen on receiving the Congressional Gold Medal," said Iowa Sen. Tom Harkin. "Jim and his colleagues exemplify the courage, strength and honor of all of our brave servicemen and women."
The Tuskegee Airmen were the nation's first black military airmen and flew more than 15,000 missions over North Africa and Europe during World War II. The group destroyed more than 250 enemy aircraft on the ground and 150 in the air. The men's flying skills helped persuade President Harry S. Truman to end segregation in the U.S. military in 1948.
"These American heroes bravely defended our country despite being discriminated against because of their race," said Iowa Gov. Chet Culver. "They defended the United States during World War II with honor and courage, even as their fellow Americans subjected them to bigotry and hate."
Congress passed legislation last April to approve the citation honoring the Tuskegee Airmen. Of the nearly 1,000 original Tuskegee Airmen, fewer than 385 are still living. Earlier this year, House Speaker Nancy Pelosi sent letters to the surviving airmen inviting them to the ceremony.
After fighting in World War II, Bowman became assistant superintendent of the Des Moines Public School System. He was director of Drake's COP 2000 program from 1990-95 and served as a member of the School of Education National Advisory Board through the 2003-04 academic year. In 1993, the Drake University School of Education honored Bowman with its annual Alumni Award.