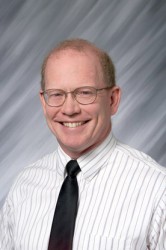 Chip Miller
Chip Miller, professor of marketing, has been awarded a Fulbright Scholar grant to lecture at the University of San Carlos in Cebu, Philippines, from November 2007 to April 2008.
He will teach global marketing to executive M.B.A. and Ph.D. students and will also work with the business school on local outreach projects and curriculum development.



"I'm elated for the chance to make a significant impact in a third-world country," Miller said. "Getting a Fulbright is a signal accomplishment and great recognition for a professor. Succeeding on my first attempt was especially exciting. I hope to help my students make better contributions to the local economy so that the Philippines can better compete in world markets."
Miller has an undergraduate degree in biology, a master of business administration, a master of arts in East Asian studies and a Ph.D. in marketing. He also has marketing experience in pharmaceutical sales, entrepreneurship and marketing research. He came to Drake in August 2001 from Pacific Lutheran University.
Miller is one of approximately 800 U.S. faculty and professionals who will travel abroad this year through the Fulbright Scholar Program, which was established in 1946 to build mutual understanding between the people of the United States and the rest of the world. Recipients are selected on the basis of academic or professional achievement, as well as demonstrated leadership potential in their fields.